Collections
Our Cambridge Collection has changing exhibitions about Cambridge, while much of our collection is in storage. This is to ensure its preservation for future generations.
Bond's Almanac 1912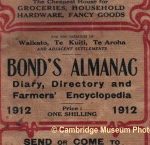 Bond's Almanac was published for the districts of Waikato, Te Kuiti, Te Aroha and adjacent settlements by Charles Frederick (Fred) Bond.
Fred was born in Cambridge on 5 January 1884, son of James Shiner and Sarah Bond. His father, James, was a former publisher of the Waikato Advocate and Waikato Times, a mayor of Cambridge and later became mayor of Hamilton.
If you find someone or something of interest in this index, contact us with as much relevant detail as possible.
Our research fees are here.
CAMBRIDGE
ALLEN A K – farmer
ARMER A H D – carpenter
ARMER F D – tailor
ARNOLD J – farmer
ASHWIN M J – farmer
ASTTE L G – railway guard
ATKINSON G H – farmer
ATKINSON H – grocer
ATTWOOD J E G – carpenter
AVENELL W – butcher
BAILEY E – labourer
BAILEY G – settler
BALDWIN S – engineer
BARKER G C – painter
BARRAS A – retired weaver
BARRAUD S C
BASKET N
BATEMAN A O – telegraphist
BEAVIS H – restaurant keeper
BEECHE J
BELT H – blacksmith
BELT H A – coach proprietor
BELT J -junior baker
BELLAMY H – labourer
BENDSON J A – creamery manager
BILLING J – baker
BLACK J H – carpenter
BLACKMORE A F
BLUNT C H – storekeeper
BLYTH A – poultry farmer
BOLLINGER G W – clerk
BOWLER W – gardener
BOYCE A B – butcher
BOYCE C – baker
BOYCE T H – storekeeper
BROAD A J – storekeeper
BROAD F H – storekeeper's assistant
BROAD W J – storekeeper
BROCKLEBY E – butcher
BROCKLEBY W H – labourer
BROOKS F J – town clerk
BROPHY T – groom
BROWN A E – traveller
BROWN S – labourer
BRYCE J A – dentist
BUCKLAND W F – solicitor
BUNYARD F C – engineer
BURBRIDGE W H – gardener
BUTLER F W – consulting engineer
BETTLE R N – settler
BYCROFT C H – contractor
BYCROFT F W – contractor
CADDY E W B – schoolmaster
CALLAWAY A – storeman
CAMERON A – bank accountant
CAMERON J – labourer
CAMPBELL E – farm labourer
CAPPER A – auctioneer
CARE W G – carpenter
CARPENTER E C – carter
CARR J R – blacksmith
CARSWELL D – tailor
CARTER H – cabinet maker
CARTER W K – coach proprietor
CAW A R – accountant
CHAMBERS J – gardener
CHEETHAM T – farmer
CHING T R – labourer
CHITTY C – settler
CHRISTENSEN R – diver
CLARK G A – storeman
CLIFFIN E – labourer
CLIFFIN E G – cabinet maker
COLLINS W G – settler
COLLIS J J – cabinet maker
COMER E J – farmer
CONDOR J – jnr storeman
CONNOLLY J A – bootmaker
CONNOLLY F J – boot dealer
COOK M – painter
CORDON R – borough foreman
CRICKETT R – farmer
CREIGHTON A C – bushman
CROWTHER H – coach proprietor
CUBIS A B – farm labourer
CUNNINGHAM O – labourer
CURTAIN A – signwriter
DAGG T – stockman
DAVIS A F – labourer
DAVYS H E – builder
DAVYS H J – timber merchant
DAY E R – land and commission agent
DEAN J – teacher
DENT J C – coach painter
DETON A – farm labourer
DENTON C – storeman
DENTON W – stockman
DEVITT J – labourer
DICKSON G – agent
DENNISON E R – railway porter
DIXON C – farm labourer
DODD W – carpenter
DOUCE J T – joiner
DOUGHERTY L B – farmer
DOUGLAS M J – accountant
DRIVER H H – carpenter
DUNN C – gardener
DWIGHT A J – yardman
DWIGHT P H -platelayer
DYER R C – ex-schoolmaster
EDWARDS G M – grocer's assistant
ELLIOTT J J – station hand
ELLIS G C
ELLSTON T W
EVANS A N J – land agent
FARNELL N R – bank officer
FEAKINS H – farmer
FERGUSON E J A – tailor
FERGUSON J P – farmer
FERGUSON H – coach painter
FERGUSON H – jnr farmer
FERGUSON J – wheelwright
FERGUSON J H – blacksmith
FERGUSON R W – coachbuilder
FISHER A P – mill hand
FISHER R – jnr farmer
FITZGERALD F J – decorator
FLAUS E T L – labourer
FLETCHER S – painter
FLYNN J – farm hand
FORBES P A E – accountant
FORD W F – carpenter
FOSTER J L – dentist
FOX R T – gardener
FRY A – no-license organiser
GANE A W – farmer
GARDINER M E – merchant
GARVEY S – police constable
GEMMILL J R – blacksmith
GILES G – labourer
GILES G – jnr carpenter
GILLARD J – farmer
GLANVILLE P T – insurance agent
GLOVER G – labourer
GOODWIN J – cow spanker
GOW J T – salesman
GOW A – stationmaster
GOW W J – clergyman
GREEHAM W – engineer
GREEN A E H – journalist
HACKETT P J – chemist
HATFIELD E C – manufacturer
HALL W H – farmer
HALLY G J – farmer
HALLY J – solicitor
HAMILTON J F – blacksmith
HAMMOND J H – bank manager
HANKINS C – gardener
HARDY E L – carpenter
HARDY L – farmer
HARRIS H A – groom
HARRIS W J – engineer
HARTLY T – clerk
HEALY E A – letter carrier
HEATH G T – grocer
HENDERSON H T – upholsterer
HEWITT P J – telegraphist
HICKEY Dennis – labourer
HICKEY J – farm labourer
HICKS A – farm labourer
HICKS H R – labourer
HICKS J – settler
HICKS John – labourer
HILL E B – chemist
HILL A C – blacksmith
HILL A E – painter
HJORTH W – labourer
HOBBS A W – labourer
HOGAN W – jnr carpenter
HOGG R – fellmonger
HOTCROFT R H – stockman's agent
HOLMES P H A – coachbuilder
HOPKIRK A – sheep farmer
HERROX C – poultry farmer
HOWARD L – agent
HOWE J – no occupation
HUGHES T H – farmer
HUMBY T – blacksmith
HUMPHRIES C H – milker
HUNTER C – auctioneer
HUNTER R W – land & estate agent
ISHERWOOD J H A L M – photographer
JARRETT C A – engineer
JARRETT C – engineer
JARRETT J – settler
JENKINS S E – farmer
JOYCE C – farmer
KEELEY J – gardener
KEELEY J – jnr butcher
KEELEY W – settler
KELLY R H – labourer
KING W S – hotelkeeper
KINGDON D – labourer
KINGDON J – blacksmith
KINGDON P J – printer
LANGLEY C – woodcutter
LANGMUIR W – gardener
LA TROBE J W – teacher
LA TROBE P M – carpenter
LAUD R M – farmer
LAVELLE E – contractor
LAYNE W – farmer
LEWIN T – grocer's assistant
LEWIS H – solicitor's clerk
LEWIS S – solicitor
LING W J – draper
LINSTROM E E – boarding house keeper
LOCKETT C – tea merchant
LOGAN W M F – clerk
LOMAX H P – land agent
LONGBOTTOM J R – labourer
LOVATT J E – merchant
LUNDON J – bank manager
LYNDS L T – plumber
LYONS Montgomery F K W – captain
MACK T – bridgeman
MAHOOD J G – contractor
MALINS A D – coachbuilder
MALINS W H – grocer
MALLER J P – billiard marker
MANN C C – farmer
MARFELL F J – commission agent
MARSHALL N C – painter
MARSHALL S – carpenter
MAY J W – farmer
MAYALL J E – settler
McCANN W G – farmer
McCARTHY P J – constable
McCUTCHEON C H – labourer
McCREA H G – farmer
McDERMOTT M P – clerk
McDERMOTT W – postmaster
McDONALD P H M – saddler
McFARLANE J – labourer
McFARLANE W – labourer
McGEARTY J – labourer
McGRANE J T – clerk
McKAY W E – billiard room proprietor
McKEARNEY J S – labourer
McKENZIE D – groom
McKEOWN J S – butcher
McKINNON D – farmer
McKINNON H A – bootmaker
McKINNON R A – teacher
McLEISH W – contractor
McMILLAN J – blacksmith
McMILLAN W – blacksmith
McNEISH J A – mechanic
McVEAGH W R – tinsmith
MEDHURST T G – waggoner
MELVILLE R J – threshing mill proprietor
MENARY W – labourer
MERRICK J W – retired merchant
MIDDLETON D – farmer
MIDDLETON J J – driver
MILLAN F S – settler
MITCHELL C J – bricklayer
MITCHELL F C – slaughterman
MONTGOMERY J – farm labourer
MORIN L M – grocer
MORRIS T M – horse trainer
MORSE W F – carpenter
MULHOLLAND J – machinist
MULLER C C – baker
MULLER W C – baker
MULLINS E C – blacksmith
MULLINS H – labourer
MULLINS J – gardener
MULLINS R J – labourer
MUNRO L G – grocer's assistant
MURDOCK E J A – commission agent
MURPHY D – blacksmith
MURPHY N – bookkeeper
MURPHY P D – carpenter
MURPHY W J – priest
MURRELL J – watchmaker
NAIRN A C – farmer
NICHOLAS M D – saddler
NICHOLAS T H – tailor
NICHOLSON P – farmer
NICOL J J – insurance agent
NICOLL A H – accountant
NIXON H L – watchmaker
NIXON R C – telegraphist
NIXON T – coachbuilder
OGILVIE J – labourer
ONIONS G S – draper
OSBORN W G – telegraph linesman
O'TOOLE F – saddler
PAGE G – stoker
PALMER E W – carrier
PALMER G H – farmer
PATCH J – insurance agent
PEIRCE A G – butcher
PEIRCE J – fruiterer
PEPPERCORN A E – farm hand
PERKINS G B – farm hand
PETERS J – blacksmith
PETERSEN A – labourer
PETERSEN G – plumber
PETERSEN J – baker
PHILP J – bookseller & stationer
PIKE H – contractor
PILCHER F G – accountant
PLESCHER F J – bootmaker
PLESCHER J – bootmaker
PLECSHER W – grocer's assistant
POLLOCK H – mechanic
POPPLE F – storekeeper
POTTS C W – carpenter
POTTS J E – carpenter
POWELL E – labourer
POWLEY W – farmer
PREECE H – labourer
PRIESTLEY C H – saddler
PURDIE J W M – ex-clerk
RAE H – labourer
RAE Hugh – contractor
RAYNER R K – draper's assistant
REDGREAVES J – farmer
REED G – carpenter
REED J N – piano tuner
REESE A A – simplex operator
REID C – cabinet maker
REID C W – cabinet maker
RENDELL H P – farmer
RENDELL A – farmer
REYNOLDS D S – farmer
REYNOLDS F J – farmer
REYNOLDS R – farmer
RICHARDS G – farmer
RICHARDS J – hairdresser
RICHARDS J P – commission agent
RICHARDS T – grocer
RICHARDSON J R – farmer
RICHARDSON R – carpenter
RILEY H – tailor
RILEY J J – labourer
RILEY W – tailor
RILEY W – labourer
RIVERS J – gardener
ROBERTS C – butcher
ROBERTS E E – surgeon
ROBERTS R J – chemist
ROBERTSON G – baker
ROBSON H C – labourer
ROWE H G – traveller
RUGE C – ironmonger's assistant
RUGE F B – hairdresser
RUSSELL J – carter
RUSSELL J S – farmer
RUTTER C L – plumber
RUTTER P – carrier
RUTTER W C – tailor
RYSDALE W – labourer
SALISBURY W J – fireman
SCOTT A W – farmer
SCOTT G A – carter
SCUDAMORE H B – labourer
SEABROOK J – farmer
SEMMENS J W – carpenter
SHARKEY W – wheelwright
SHENNEN J S – labourer
SHEPHERD W D – grocer
SIMPSON G – farmer
SMITH E W G – hotelkeeper
SMITH H G – clerk
SMITH J P – bushman
SMITH R H – butter factory assistant
SMITH S C – compositor
SMITH W – bricklayer
SMYTH P T – caretaker
SOUTER E N – merchant
SOUTER J W – merchant
STANAWAY J W – ironmonger
STENT H E – poultry farmer
STEPHENS F – gardener
STEWART A A – railway engine driver
STEWART N J – carpenter
STITCHBURY D J – farmer
STIRLING J A – farmer
STEWART C S – storeman
STUBBING D – surveyor
STUBBING M – surveyor
SUMMERS J G – carrier
SWEETING T – gardener
TERRILL J – hairdresser
THOMAS A – hotelkeeper
THOMAS A D – hotelkeeper's assistant
THOMAS D
THOMAS W H – fruiterer
THOMASON F C – creamery manager
THORNLEY A E – shop assistant
THORNTON W – farmer
TINSLEY W – Methodist minister
TRING T – miller
TRYTHALL A B – land agent
TUDHOPE R – draper
TURNER W – labourer
TWIDLE J – farmer
URE W R – blacksmith
VEALE E – accountant
WAITE T – carter
WALKER W R C – teacher
WALLACE A – settler
WALLACE H C – farmer
WARREN R W – land agent
WATSON W J – groom
WATT C – farm assistant
WATTAM T
WATTERS J – hotelkeeper
WAYMAN F – saddler
WAYMAN G – labourer
WEBBER H – blacksmith
WEBBER W – carrier
WEIR T – farmer
WEBBS T M – merchant
WEST J – farmer
WESTERN P W – plumber
WESTNEY S N – retired
WHITE A – painter
WHITE J P – divinity student
WHITE W – carpenter
WICKS H W – gardener
WILCOX S C
WILCOX W T – gardener
WILKINSON A – plumber
WILKINSON E J – journalist
WILLLIAMS P J B – draughtsman
WILLIAMS W L C – settler
WILLIAMSON W J – labourer
WILLIS W N deL – clergyman
WOLSTENHOLME J – painter
YOUNG H G – watchmaker
YOUNG J – coachbuilder
YOUNG J T – grocer's assistant
---
HAUTAPU
ALLWILL J – farmer
ALLWILL S S – farmer
AMOS J – contractor
BACKHOUSE – farmer
BAILLIE J W – farm labourer
BARTLETT F – farmer
BEANGE A – creamery manager
BEANGE G – labourer
BEER E – farmer
BEER J L – farmer
BROWN T W – farmer
BURGE H – butter maker
CHRISTIANSEN A – factory assistant
COWLING S – farmer
COWLING W A – farmer
CROUCH C – farmer
DAVYS F – farmer
DOUGHERTY N – farmer
DUNCAN R O – farmer
DUNCAN W F – farmer
FORREST A H – farmer
FORREST J – farmer
HALL W H – farmer
HAMERTON J H – farmer
HARBUTT W – farmer
HARGREAVES C H – horse breaker
HEGH O J – farmer
JAMES E – storekeeper
JAMIESON A – farmer
JAMIESON A H – farm labourer
JAMIESON J H – farmer
KARL E P – farmer
KELLY A E – farmer
KELLY T H – farmer
KNIGHT E – farmhand
MAIN A – farmer
MCCANDLISH E H – farmer
MCCORMICK W – farmer
MCFARLANE A – farmer
MCFARLANE J D – farmer
MCGEECHIE B – farmer
MCGEECHIE J A – farmer
MCLEOD D J – farmer
MCNAUGHTEN D – drover
MCNAUGHTEN Dugald – farmer
NEWCOMBE F – farmer
NEWCOMBE R – farmer
O'KEEFE J J A – farmer
PARKER G E – farmer
PALTRIDGE H – factory hand
PRETTY A – labourer
QUALTROUGH W – farmer
RUSSELL M W – farmer
SCHWARZ E A – farmer
SERCOMBE J – farmer
SHAW D – farmer
SHAW J – farmer
SIMPSON G W – farm labourer
SIMPSON T – farmer
SIMPSON W – carpenter
SMITH A C – farm labourer
THOMAS R – farmer
VOYLE J R – farmer
WALLACE W C – farmer
WARD R – farm hand
WATT G McC – manager cheese factory
WATTAM T – farmer
WATTAM R – farmer
WILLIAMSON D – farmer
WISEMAN J C – farm labourer
Researched and written by Eris Parker
Ref: Cambridge Museum Archives