1913 Watersiders' Strike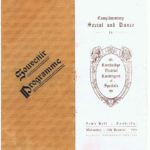 The Watersider's Strike was the main topic of conversation in Cambridge towards the end of 1913. By the end of October, 13,000 Wellington watersiders were out on strike and it was spreading. The farmers' interests were at stake. (No waterside workers = no exports.)
At a local meeting, Cambridge supported the action of the Farmers' Union and pointed out that "it is a matter of vital interest to the dairy industry that there should be no dislocation of shipping facilities at this juncture, and if the worst fears are realised it is anticipated ample free labour would be forthcoming to work the boats."
Cambridge shops ran short of flour, potatoes, sugar, kerosene and coal, and prices rose. Some local businesses were forced to reduce staff.
Although the farmers had no grievance with the watersiders or their employers, their mission was to see that the products of the country were not allowed to suffer.  133 fully equipped men left from Cambridge at short notice to serve in Auckland as Special Police Constables. Cambridge and districts supplied the largest proportion of men and horses in the Waikato and many wives, mothers and daughters took over the farm work. Because of the threat of sabotage, every factory, creamery and public building was guarded night and day.
In Auckland the mounted men, their batons at the ready, were put on duty at the docks protecting the free labour.  On 10 November, the Weekly News reported that as the clock struck 5am, "Every unit in the defence of the waterfront, comprising fully 1,000 'irregulars' and regular police, was stationed in the position selected for it. As the day advanced, a very angry crowd of strikers and their sympathisers congregated in Little Queen Street, which was guarded by farmers from Cambridge, and towards ten o'clock it looked as if there would be trouble. The mass of excited men forced itself nearer to the double row of mounted country men and shouted the most offensive epithets in its vocabulary, varying the theme occasionally with a chorus of howls and hoots.
"The Cambridge farmers sat quiet, calm and outwardly unmoved; but their batons never left their hands, and their gaze was fixed very steadily on the seething, raging crowd in front. 'We don't want to start fighting', said the commander of the troop, when a particularly vile invective was flung at them, 'we are here to protect our port and not to fight'."
Captain J W Garland wired Cambridge saying, "On behalf of the Cambridge Squad please thank Cambridge ladies for their kindness in sending cakes and puddings to the men. Very much appreciated by all."
On 17 December, the 'Specials' came home to a social and dance organised by the Chamber of Commerce. The Farmers' Union swelled its membership and soon branches were formed in every district.
The affair ended for Cambridge in April 1914 with the Specials' Picnic at Ruakura when the Prime Minister Mr Massey presented all those who went to Auckland with a Special Constabulary medal.
Click here for the list published in the Waikato Independent newspaper, 16 April 1914, of all those who received the Special Constabulary medal.
Researched and written by Eris Parker
Ref: Auckland Weekly News
Cambridge Museum Archives