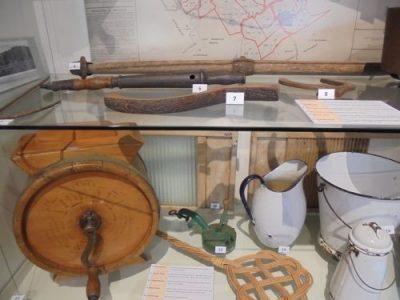 In August 1916, the Government purchased Mr Taylor's estate of 12,000 acres for soldier settlement.  The block was mainly in bush, scrub and fern.  Access was by way of Sanatorium Hill and along a clay road for four miles.  Later a road via Fencourt and Flume Road was formed.
The land was leasehold for 33 years with right of renewal or purchase.
Many factors were responsible for the initial failure of the settlement and the abandonment by many settlers of their holdings.  It was mainly the parsimony of the Government and the depression of 1921 when the pay-out for butter was low.
It was to the credit of the few settlers who stuck to their farms that they battled.  They had to contend with a plague of rabbits and the depredations of deer.  Not until the Maungakawa Rabbit Board was formed was it possible to see some return from the farms.  Most of the original blocks were found to be too small and later some were aggregated.
Costs were high in the early days of the settlement.  £80 a ton for wire, while cartage of timber exceeded the cost of the material.  It took a man with a laden dray drawn by four draught horses three days to cover four miles, so bad were the roads.
In the year 1958 there were 58 houses on the block and the population was 250.
The stock carried consisted of 25,000 breeding ewes, 1,500 dairy cows, 1,000 pigs, 25,000 lambs and 2,000 run cattle.  Five hundred bales of wool were sent away each year.  The estimated annual value of the produce was £203,400.  This says much for a settlement that many predicted was foredoomed to failure.