Cambridge Historical Society
Open to all, we aim to guide public interest in historical matters & preserve local history and heritage buildings.
JOIN US
The Museum's research archives are open by appointment between 10 am and 4 pm Monday to Friday.  Enquiries are welcome.
It may be possible to make resources available at weekends and public holidays. Please contact us to discuss this.
Research is at the heart of the Cambridge Museum and Historical Society's activities. The Cambridge Museum holds extensive documentary and photographic archives relating to Cambridge from the 1860s onward. Our archives contain family histories and genealogies of the early European families in the Cambridge area. The Cambridge Museum also maintains an informative reference library for the local district.
How to find out more about the Cambridge Collections?
If you are looking for a specific person or family, we recommend you contact us directly so we can search our biographical indexes.  Contact Us
Visit: Book an appointment
The Museum's archives are open by appointment between 10 am and 4 pm Monday to Friday, excluding public holidays.
Research assistance by staff is free for the first half hour. A fee of $25.00 per half hour will be charged thereafter. Copying, post and handling charges will be charged separately
Contact us to book your appointment
Search the Cambridge Museum website
In Cambridge People, you will find stories and indexes on First Families, Cambridge Rate Payers, Cambridge Armed Constabulary, 3rd Waikato Militia, Cambridge Pioneer Women and much more
In Cambridge Town you will find information about A-List and B-List Historic Buildings, Schools, Districts, The Origin of Road Names, and Cemeteries.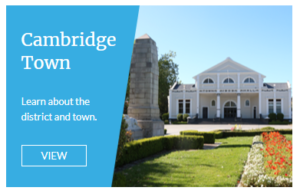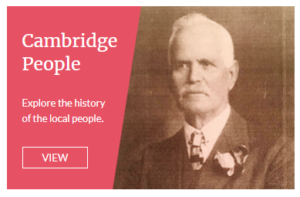 Search NZ-wide
The following guides highlight Cambridge-focused resources available online:
Top 25 Online History Resources: ENZED History Online
Are you beginning to research your family history or a past event?  Our Museum Manager's list of top 25 New Zealand Historical Research databases and websites will help get you started. View 25+ online history resources here
Maps and plans of Cambridge.  To access a list of Cambridge maps and plans available online, please click here.
3rd Waikato Militia.  For publications, journal articles, online sources, databases and manuscript items on the 3rd Waikato Militia, please click here.
How old is your house?
Just moved to a new home in Cambridge, or beginning to research the family home? This guide suggests some of the best places online to begin your search. Read more here.
Publications
Cambridge Museum research is published within a wide variety of specialist areas in the form of books, articles, and creative works.
Staff also contribute to and edit the Historical Society's newsletter (latest editions here):
Recent publications:
Waipa: Home of Champions: Celebrating 150 Years – Index available here
The Waikato River Gunboats – New Zealand's First Navy by Grant Middlemiss (2014)
The story of gunboats used during the British invasion of the Waikato. Eight purpose built river gunboats deployed during the British invasion of the Waikato in 1863, when a force of 12,000 British and Colonial troops invaded the Waikato region. To reach the pastoral land of the Waikato interior a reliable transport route was required to move the men and their supplies. The Waikato River provided that route. The armoured iron gunboats were deployed as a naval force and transport service to move the troops and supplies past the Māori fortifications along the river.
View the Index and Bibliography here