World War One Nurses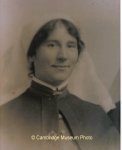 (From the book 'Cambridge WW1 – Something to Remember' by Eris Parker ©)
Five Nurses left from the Cambridge district to serve overseas during World War One. They were accepted provided they were available for service when required, not merely with the New Zealand troops; had to have certificates of efficiency and be not more than 45 years old.
22/219 Ethel Swayne NZ ANSC was born 27 October 1883 to Robert and Catherine Swayne of 'The Oaks', Fencourt. Ethel qualified at Waikato Hospital in 1912 and enlisted 2 December 1915. On 4 December 1915 Ethel took up duties on the Hospital Ship Marama. She left New Zealand 21 January 1916 and sent a cable home on 22 May saying "Arrived at Alexandria 16 instant quite well". Then in July she spent a month in Brockenhurst Hospital with rheumatic fever.
Ethel returned in October spending three weeks furlough at Fencourt and while home attended a talk on the Red Cross, given by Mrs Parkes at the Cambridge Town Hall. She was then appointed to the military hospital at Trentham. In May 1917, Ethel spent another ten days furlough at Fencourt and on 22 September was off on the Marama again for duty overseas. She arrived home just after Christmas, returning overseas a month later. On 6 April 1918 Ethel was promoted to Staff Nurse while on duty at Brockenhurst and on 3 December promoted again to Sister. She embarked on the Willochra on 8 March, arriving in New Zealand on 15 April 1919.
On leaving the army Ethel was appointed Matron of the Te Kuiti Hospital and then the Whangarei Hospital. She continued nursing and during WW11 she was Commandant of the Cambridge Voluntary Aid Detachment, enlisting again in the Army with the rank of Captain.
22/187 Agnes Kate Stephenson was the daughter of Mrs Stephenson of Hamilton Road. She qualified as a nurse in Auckland in 1909 and became a Sister on 26 October 1915 while with the Imperial Forces. Agnes served at 31 General Hospital at Port Said in Egypt, from March to July 1916 and then on H S Delta from July – August 1916. She was then recalled, arriving in England in 1917. She resigned on 15 January 1918 in the UK to marry Mr Cruikshank and returned to New Zealand in 1919.
22/230 Isabel Ethel Floyd was the daughter of George and Mary Floyd of Karapiro. She qualified as a nurse in Auckland in 1907 and left New Zealand on the Marama early 1916. Isabel became Staff Nurse 10 January 1916 at 27th General Hospital, Abbrassia, Cairo while with the Imperial Forces. From March to September 1916 she was with H S Carrisbrook Castle, H S Marama and at Walton-on-Thames. She become a Sister on 3 December 1917 and finished her time at Hamner, New Zealand, 7 November 1918.
22/169 Mary Watt NZ ANSC was born 7 August 1883 to George and Elizabeth Watt of 'Abergeldie'. Mary qualified at Waikato Hospital and enlisted July 1915 Mary left New Zealand on 10 July 1915, one of the first 100 New Zealand nurses to serve overseas. She was recuperating from appendicitis on arrival in Cairo and later transferred to H S Delta at Port Said. As Staff Nurse Mary left again for overseas on the Maheno in November 1916 and on her return in 1918 was posted to Featherston. Mary married Major Dr Frederick Cameron DSO, NZMC on 2 March 1918 and left Cambridge to live in Fielding.
22/293 Alice Brash Smith qualified as a nurse in Hawera in 1910. She had two brothers, Sydney and Walter, also serving overseas and her parents, Mr and Mrs James Smith lived at Pukerimu. Alice was promoted to Staff Nurse on 5 March 1916 while serving with the Imperial Forces at Colchester in England. On 17 January 1918 Alice was promoted to Sister while serving at No 1 Stationary Hospital, France. She was there until June 1918. They were stationed in a city, and took advantage of any slack time to see places of interest. They walked into the country and saw some of the outlying villages. The French sentries were very good, and seldom prevented their passing. Alice finished her time as a masseuse until 17 June 1919 and was awarded the ARRC.