Collections
Our Cambridge Collection has changing exhibitions about Cambridge.  Much of our collection is in storage to ensure its preservation for future generations.
Bathing Fashion of the 1920s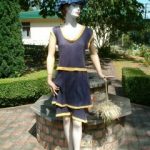 Ladies one-piece bathing costume. Made of blue cotton knit fabric with yellow band trim on all edges, it is buttoned on one shoulder, has short legs and a skirt overlay.