Cambridge Town
Learn about the history of town and its districts, schools and roads over the years.
View more
Cambridge Primary School 1882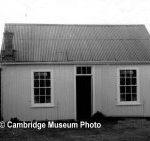 These are the Cambridge Primary School's New Enrolments for 1882
SCHOOL ENROLEMENT LIST TO COME
Disclaimer:
While all due care has been taken to verify information contained on this site, the Cambridge Museum accepts no responsibility for any errors, omissions or misrepresentation.
Copyright © 2003 – Cambridge Museum – All Rights Reserved.