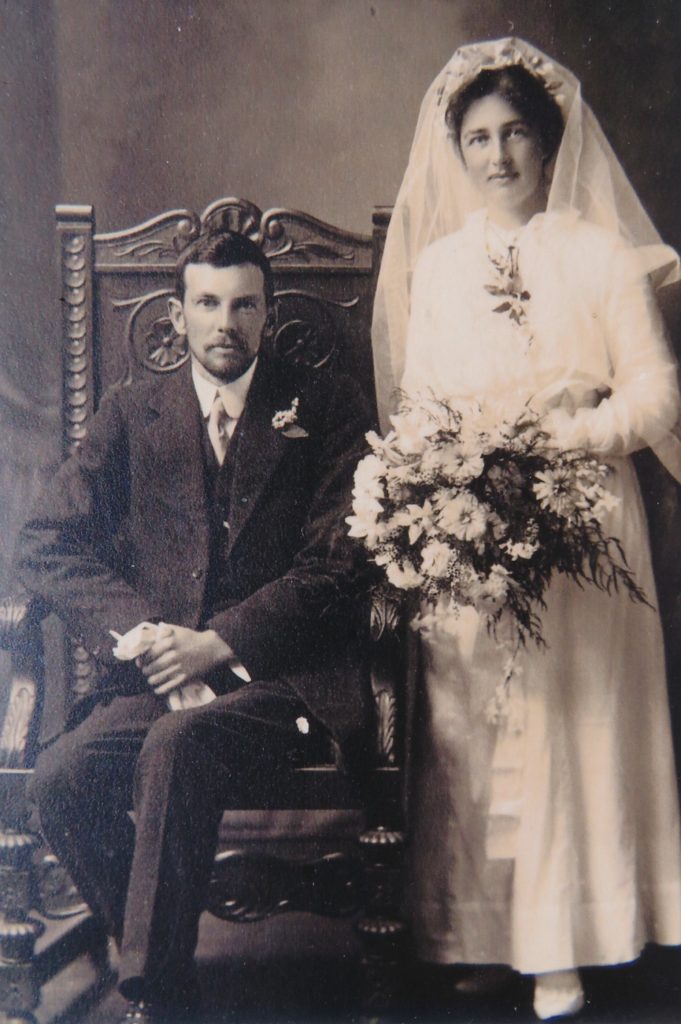 Charlie Smale and Florence Wright
-
Jan Kilham, a member of the Cambridge Historical Society, was inspired to share this touching story after reading about Dr Stapley in the Society's newsletter of March 2022.
I found the stories of the first cars in Cambridge to be very interesting. I was especially interested in the story about Dr Walter Stapley and his Model T Ford car, because he drove out to help my great-uncle after he had a terrible accident at the new hydro-electric power station at Horahora on 10 October 1913. By looking at the photo of Dr Stapley, I feel that no one could have taken better care of my great-uncle than the much-loved doctor.
My great-uncle was Francis Charles Chase Smale, known as Charlie, born in 1889 and raised in the rural area of Whataitutu, located north of Gisborne. He qualified as an electrical engineer and was working at the Horahora power station when the unfortunate event happened. Charlie crossed a live wire while carrying a drill and some part of the drill must have come in contact with the live wire. He received a shock of 5000 watts of electricity. His most serious injury was a hole in the back of his thigh, while he was also badly burned across his forehead and his hands, and a kneecap was burnt too. Dr Stapley drove Charlie to Victoria House – a small hospital on the Cambridge-Hamilton road where Charlie was described as being in a critical condition.
It is probable that Charlie hadn't known that the electricity was switched on at the time of the accident; the power supply had been interfering with local telephones and while engineers worked on solving the problem, the power had to be switched off. Obviously, it was a communication breakdown.
Charlie made good progress at Victoria House but at some time he was moved to Waikato Hospital. Presumably, he went there by ambulance because Waikato Hospital had one by then. The doctors eventually realised that they could do no more for Charlie, and discharge plans were made for him.
The plans involved my great-aunt, Florence Mary Wright, who was born near Temuka in 1886. Her parents had moved to the Waikato with their family in 1908 to take part in the expansion of dairy farming. They first farmed at "Paeroa" which was part of the old Paeroa-Cranston Estate; then sold, then bought a better farm – where The Red Barn restaurant is now in the Hinuera Valley.
Florrie was a talented artist and poet, played the piano and organ, she matriculated in 1903, studied at Deaconess College in Dunedin, began the first school in Piarere, and was a social worker for the Cambridge Presbyterian Church at the Horahora Village.
Charlie and Florrie were married on 9 August 1916 at the home of her parents. Charlie was brought out from Waikato Hospital by some of Florrie's family for the wedding and later, the groom's family took him back to hospital for a bit longer. Florrie rented a house in Turret Road, Tauranga, where she would nurse her husband. The two of them would spend a lot of their time down by the beach where Charlie could enjoy the seaside and Florrie would paint the scenery or put out a net to catch fish.
The NZ Gazette of 3 September 1917 posted lists of men called up to serve with the Defence Forces in WWI. Charlie was in the lists, his service number being 56020. Sadly, he had passed away less than a fortnight earlier – on 29 August 1917. He was buried in the Old Anglican Cemetery in Tauranga.
Published in the Cambridge Historical Society Newsletter August 2022