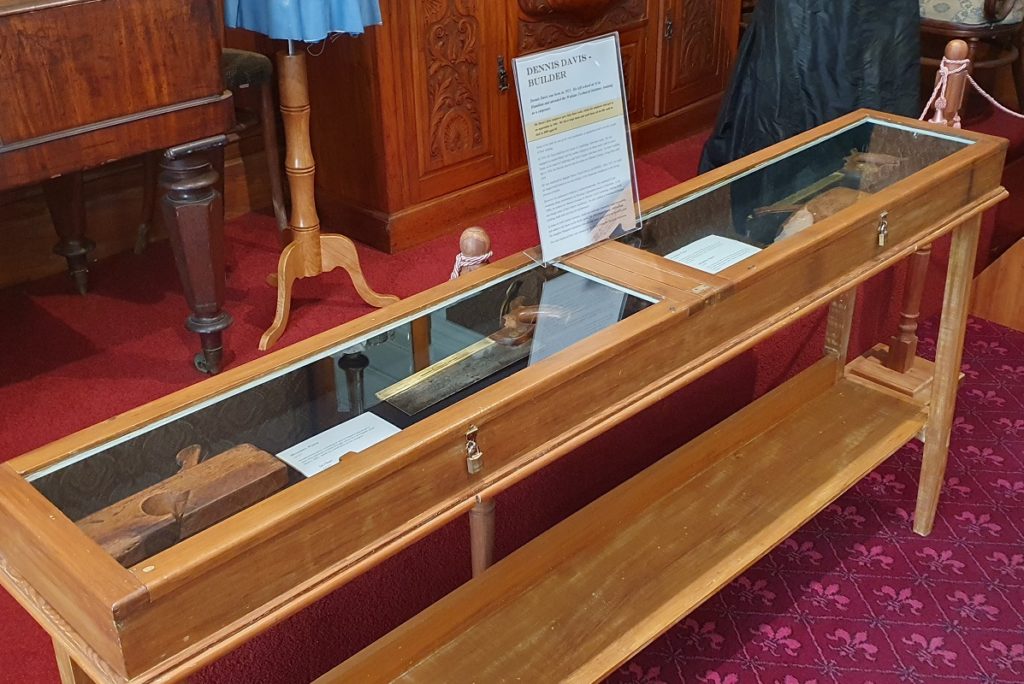 We have on display at the museum at present several good examples of Victorian woodworking tools, including planes and saws. These have been carefully cleaned and oiled by Committee member Bruce Dean, who has showcased the rich patina of these once unassuming workaday objects.
They were owned by Dennis Davis who was a builder in Cambridge and Hamilton for many years.
Mr Davis was born in 1925 and at age 16 left school in Hamilton. He attended the Hamilton Technical College, training as a carpenter. World War II had begun and because of the shortage of tradesmen, registered carpenters in retirement were called back to train and employ apprentices.
Mr Davis was given these tools by his first employer who had used them as an apprentice in 1901. Some of the tools were handmade by apprentices who had to do this as part of their training.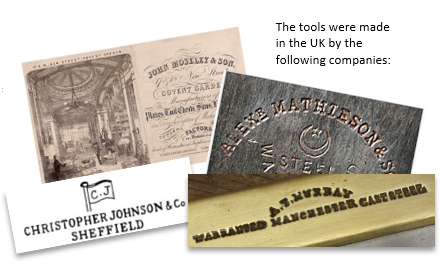 Mr Davis built his own house in Cambridge with these tools. He was engaged to Loraine Retter. Loraine's mother refused to let them marry until he had a house, so he came to Cambridge and built one. On their wedding day in 1950, the Davises moved into their new house at 6 Brooke Terrace. The family lived there until 2018.
Mr Davis was employed by Speight Pearce Nicoll Davys Ltd (SPND) and the Taupo Totara Timber Co. After 1955, he could no longer build houses as he was allergic to the chemicals introduced in the drying process of timber.
However, he continued to build as a builder/handyman. He contracted in the weekends doing maintenance on Housing Corporation houses in Hamilton. In the 1980s, he worked for Moore Levesque & Morriss Ltd in Cambridge, helping build and design some of their factory machinery. He also worked at Nicholson's Orchard building sheds and carrying out maintenance.
At home he built interior furniture, sheds and landscape structures, made renovations and added to the house as the family grew. He often helped friends with building.
His daughter Margaret had happy memories of him playing music using a bow on one of his saws.
Mr Davis used the tools all his life until he died in 2009 aged 85.
A clue to a previous owner?
The name "J MILLER" is engraved on the brass back of one of the saws on display at the museum.  He may have been Cambridge resident John Napier Miller, who was born in 1846 at the Whakatumutumu Wesleyan Mission Station set up by his parents in 1840.  His father, Rev Frederick Miller (known as Te Mira in Maori) died of Tb aged 32 when John was two years old.
In his early teens John was sent to England to study for the Wesleyan ministry, but after some years he returned to New Zealand and became a carpenter.
He married Annie Finch of Pirongia in 1874, and took up residence at Cambridge, where he worked in partnership with Mr McFarlane in a carpentering and joinery business. He assisted in the erection of many of the oldest buildings in Cambridge, including the Anglican Church.  He died in Paeroa in 1928 at the age of 81.
Who made the bench saw?
The brass backed bench saw with "J MILLER" engraved on it was made by Christopher Johnson & Co, Sheffield, England.  Mr Johnson started a cutlery business in 1836.  In 1859, he relocated to Portobello Street, which was to be the centre of the firm's operations well into the twentieth century. Johnson was essentially a merchant but he listed himself as a steel converter and refiner, and a 'manufacturer' of files, tools, and a complete range of cutlery (including table and pocket knives).  The company closed in 1955.