Cambridge Town
Learn about the history of town and its districts, schools and roads over the years.
View more
Hautapu District School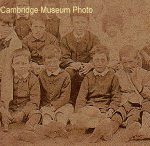 This alphabetical list of pupils shows enrolment dates pre 1908. This is consistent with NZ Society of Genealogists' 100 years privacy rule.
If you find something of interest please click here to contact us.
| | | |
| --- | --- | --- |
| A | | |
| ALLWILL | Roderick | 1898 |
| ALLWILL | Stephen | 1895 |
| | | |
| B | | |
| BANKS | Joe | 1897 |
| BANKS | Nelson | 1897 |
| BANKS | Sefton | 1897 |
| BARKER | Elsie | 1894 |
| BEER | Blanche | 1890 |
| BEER | Eva | 1902 |
| BEER | Florence | 1890 |
| BEER | Violet | 1902 |
| BEERE | Blanche | 1886 |
| BEERE | Enos | 1885 |
| BEERE | Ernest | 1885 |
| BEERE | Florence | 1885 |
| BEERE | Leonard | 1885 |
| BLACK | Frances | 1902 |
| BLACK | Jessie | 1902 |
| BLACK | Louis | 1902 |
| BROOM | Eva | 1891 |
| BRUNSKILL | Dora | 1899 |
| BULL | Mary | 1890 |
| BUTLER | Ida | 1899 |
| BUTLER | Joseph | 1905 |
| BUTLER | Kenneth | 1904 |
| BUTLER | Murial | 1900 |
| BUTLER | Raymond | 1901 |
| | |  Back |
| C | | |
| CLARK | Alfred | 1885 |
| CLARK | Alice | 1887 |
| CLARK | Florence | 1885 |
| CLARK | George | 1885 |
| CLARK | Harry | 1885 |
| CLARK | Lena | 1896 |
| CLEWS | Charles | 1881 |
| CLEWS | Sydney | 1880 |
| CLIFFIN | Edwin | 1897 |
| CLIFFIN | Maud | 1897 |
| CLIFFIN | Susan | 1897 |
| CLOTWORTHY | James | 1906 |
| CRICKETT | Ada | 1885 |
| COWLING | Albert James | 1906 |
| COWLING | Alma | 1889 |
| COWLING | Alma Rachel | 1908 |
| COWLING | Ethel | 1890 |
| COWLING | John | 1878 |
| COWLING | Mary | 1879 |
| COWLING | Walter J | 1886 |
| COWLING | William | 1880 |
| CRICKETT | Ada | 1893 |
| CRICKETT | Angus | 1901 |
| CRICKETT | Athol | 1892 |
| CRICKETT | Eunice | 1899 |
| CRICKETT | Helen | 1885 |
| CRICKETT | Leigh | 1890 |
| CRICKETT | Nellie | 1893 |
| CRICKETT | Olive | 1897 |
| CRICKETT | Roy | 1889 |
| CRICKETT | William | 1886 |
| CROUCH | Alfred | 1897 |
| CROUCH | Caroline | 1885 |
| CROUCH | Frank | 1892 |
| CUBIS | Raymond | 1908 |
| | |  Back |
| D | | |
| DALY | Bertha | 1884 |
| DARLOW | Edith | 1901 |
| DARLOW | Rhoda | 1901 |
| DARLOW | Samuel | 1901 |
| DARLOW | William | 1901 |
| DIXON | Aileen | 1893 |
| DIXON | Cecil | 1893 |
| | | |
| E | | |
| EDSON | Elsie | 1894 |
| ELLIS | Alfred | 1884 |
| ELLIS | George | 1884 |
| EWEN | Daphne | 1893 |
| EWEN | Lancelot | 1893 |
| EWAN | Leonard | 1904 |
| EWAN | May | 1904 |
| EWAN | Nellie | 1904 |
| EWAN | Nita | 1904 |
| EWAN | Trevor | 1905 |
| EWEN | Vivien | 1893 |
| | |  Back |
| F | | |
| FERGUSON | Hugh | 1891 |
| FERGUSON | Mable | 1897 |
| FERGUSON | Robert | 1893 |
| FORD | Ernest | 1905 |
| FORREST | Grace | 1889 |
| FORREST | Horace | 1908 |
| FORREST | Lily | 1889 |
| FORREST | Lucy | 1889 |
| FORREST | Rosie | 1889 |
| | | |
| G | | |
| GARLICK | Una | 1892 |
| GIFFNEY | Arthur | 1903 |
| GIFFNEY | Winnie | 1901 |
| GOODWIN | Lionel | 1907 |
| GOODWIN | Norman | 1907 |
| GUBB | Irene | 1901 |
| | |  Back |
| H | | |
| HALL | Lindsay | 1904 |
| HALL | Stanley | 1904 |
| HALLY | Edward | 1897 |
| HAMILTON | Bella | 1889 |
| HAMILTON | James | 1888 |
| HANLIN | William | 1889 |
| HARDWICK | Eva | 1906 |
| HARE | Arthur | 1901 |
| HARE | Faith | 1901 |
| HENN | Eddie | 1897 |
| HILL | Frederic | 1885 |
| HILL | John | 1885 |
| HINTON | Minnie | 1885 |
| HOOKER | Kenneth | 1903 |
| HOOKER | Newton | 1903 |
| HOOKER | Stanley | 1903 |
| HUGHES | Elizabeth | 1889 |
| HUGHES | John | 1889 |
| HUGHES | William | 1889 |
| | |  Back |
| I | | |
| INGHAM | Ellen | 1894 |
| | | |
| J | | |
| JARRETT | Louisa | 1889 |
| JESSEN | Eric | 1895 |
| JOHANSEN | Minnie | 1899 |
| JOHANSEN | Rose | 1899 |
| JOHANSEN | Violet | 1899 |
| JOHANSEN | William | 1899 |
| | |  Back |
| K | | |
| KARL | Dorothy | 1904 |
| KARL | Eric | 1901 |
| KARL | Margaretta | 1908 |
| KIRKWOOD | Nellie | 1897 |
| | | |
| L | | |
| LAKE | Chas Jessen | 1890 |
| LAKE | Lulu | 1897 |
| LAKE | Myrtle | 1895 |
| LAKE | Ruby | 1893 |
| LEEK | Frank | 1891 |
| | |  Back |
| M | | |
| MACLAURIN | Elizabeth | 1879 |
| MACLAURIN | Kenneth | 1879 |
| MAIN | Catherine | 1881 |
| MAIN | Mary | 1881 |
| MAIN | Robert | 1881 |
| MARSTON | Louisa | 1880 |
| MARSTON | Thomas | 1884 |
| MAY | Cecil Mildred | 1905 |
| MAY | Winifred Myrtle | 1905 |
| MORGAN | Charles | 1879 |
| MORGAN | Robert | 1881 |
| MORGAN | Thomas | 1878 |
| MULLINS | Edith | 1890 |
| MULLINS | Ernest | 1890 |
| MULLINS | Herbert | 1890 |
| MULLINS | Rowland | 1890 |
| | | |
| Mc | | |
| McCAIG | Jack | 1908 |
| McCAIG | Robert | 1908 |
| McCAIG | Robin | 1906 |
| McCAIG | William | 1908 |
| McCAIG | Willie | 1905 |
| McCANDLISH | Ernest | 1908 |
| McCANDLISH | Pearl | 1908 |
| McNAUGHTEN | Alex | 1903 |
| McNAUGHTEN | Catherine | 1903 |
| | |  Back |
| N | | |
| NEAL | Chas | 1897 |
| NORRIS | Alice | 1886 |
| NORRIS | Ben | 1904 |
| NORRIS | Freda | 1899 |
| NORRIS | George | 1888 |
| NORRIS | Gertrude | 1893 |
| NORRIS | Grace | 1904 |
| NORRIS | Harry | 1894 |
| NORRIS | Henry | 1901 |
| NORRIS | James | 1896 |
| NORRIS | Millie | 1890 |
| NORRIS | Winifred | 1887 |
| | | |
| O | | |
| ORMSBY | Albert | 1886 |
| ORMSBY | William | 1886 |
| ORR | Maggie | 1889 |
| | |  Back |
| P | | |
| PARKER | Ada | 1881 |
| PARKER | Albert | 1885 |
| PARKER | Ernest V | 1904 |
| PARKER | Francis | 1885 |
| PARKER | Gladys | 1905 |
| PARKER | Ida | 1904 |
| PARKER | Malcolm | 1889 |
| PEEK | Leo | 1897 |
| PEPPERCORN | Albert E | 1887 |
| PEPPERCORN | Leonard | 1889 |
| PEPPERCORN | Louie | 1887 |
| PEPPERCORN | Mary Ann | 1887 |
| PEPPERCORN | Robert | 1888 |
| PEPPERCORN | Syd | 1897 |
| PERKINS | Chas | 1890 |
| PERRY | Isabel | 1903 |
| PERRY | James | 1903 |
| PERRY | Thomas | 1903 |
| PICKERING | Charles | 1889 |
| PICKERING | James | 1889 |
| PICKERING | Jane | 1889 |
| PICKERING | Norman | 1893 |
| PICKERING | William | 1889 |
| | |  Back |
| R | | |
| RADFORD | Frank | 1895 |
| RADFORD | George | 1895 |
| RUSSELL | Agnes | 1882 |
| RUSSELL | Ellen | 1894 |
| RUSSELL | Helen | 1895 |
| RUSSELL | Hilda | 1901 |
| RUSSELL | Humphry E | 1886 |
| RUSSELL | James | 1879 |
| RUSSELL | Janet | 1888 |
| RUSSELL | John | 1883 |
| RUSSELL | Laura | 1879 |
| RUSSELL | Matthew | 1889 |
| RUSSELL | Nellie | 1891 |
| RUSSELL | Thomas | 1894 |
| RUTTER | Arthur | 1902 |
| RUTTER | Cecil | 1902 |
| RUTTER | Percy | 1902 |
| | |  Back |
| S | | |
| SCOTT | David | 1903 |
| SCOTT | George | 1903 |
| SCOTT | James | 1903 |
| SCOTT | May | 1903 |
| SCOTT | Nellie | 1903 |
| SCOTT | Willie | 1903 |
| SELBY | Alfred | 1883 |
| SELBY | Arthur | 1884 |
| SELBY | Edith | 1884 |
| SELBY | Mabel | 1884 |
| SELBY | Mary | 1884 |
| SHAW | James | 1897 |
| SHAW | Ruby | 1908 |
| SHEPHERD | Henry Arthur | 1907 |
| SIMMENS | Ernest | 1898 |
| SOUTER | Langford | 1905 |
| SOUTER | Will Burns | 1905 |
| STEELE | Alfred | 1882 |
| STEELE | Annie | 1885 |
| STEELE | Duncan | 1882 |
| STEELE | George | 1882 |
| STEELE | Minnie | 1884 |
| STEELE | Samuel | 1885 |
| STEELE | Walter | 1882 |
| STRETTON | Frank | 1903 |
| | |  Back |
| T | | |
| THOMAS | Annie | 1902 |
| THORPE | Bower | 1898 |
| THOMAS | Flossie | 1902 |
| THORPE | Frederick | 1897 |
| THORPE | Herbert | 1897 |
| TRETHEWAY | Charles | 1886 |
| TRETHEWAY | Mary | 1886 |
| TRETHEWAY | Thos | 1886 |
| TWIDLE | Annie | 1884 |
| TWIDLE | Helen | 1884 |
| | | |
| U | | |
| UNGHAM | Joseph | 1894 |
| | |  Back |
| W |   |   |
| WALLACE | Kenneth | 1903 |
| WALSH | Edward | 1893 |
| WALSH | Percy | 1893 |
| WARD | Alexander | 1895 |
| WARD | Eric | 1899 |
| WARD | Ethel | 1896 |
| WARD | Ralph | 1895 |
| WARD | Roydon | 1895 |
| WARD | Winifred | 1896 |
| WATTAM | Agnes | 1889 |
| WATTAM | Amy | 1889 |
| WATTAM | Arthur | 1889 |
| WATTAM | Frank | 1890 |
| WATTAM | Lucy | 1896 |
| WATTAM | William | 1889 |
| WEAL | Emily | 1897 |
| WEBB | Frank Wilfred | 1907 |
| WEBB | Winifred May | 1907 |
| WELLS | Stewart | 1908 |
| WEST | John | 1892 |
| WEST | William | 1892 |
| WHEELER | Neville | 1898 |
| WILLIS | Kathleen | 1895 |