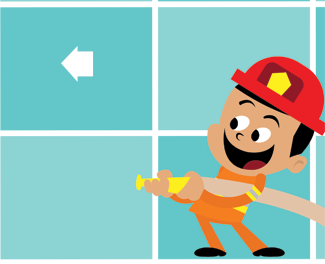 Play Hoses and Ladders with your friends and learn more about the history of Cambridge's firefighters. All you need is between 2 and 4 player counters and dice.
A printer-friendly version of Hoses and Ladders – including instructions is available here. Download Hoses and Ladders Game
How to play
For 2 – 4 players
Aim:
Race around the board to the finishing square. The first player there wins!
To begin:
The player who throws the highest number goes first, with the player on their left going next. How to play: Throw the dice and move your counter in the direction of the arrows the number of spaces shown. If you land on a space that has the foot of a ladder on it you can climb up to where it ends. But if you land on a square with the hole then you have to slide down the pole. If you land on a hydrant, follow the arrows! Good luck!