How objects come into the Collection
-
Our Collection has been growing since the Cambridge Historical Society was established in 1956.
It includes taonga Māori as well as heritage material related to Cambridge's colonial period and beyond. The Museum archives contain examples of our documentary heritage, including historic photographs, whakapapa and family histories.
Offering an object or taonga to Cambridge Museum
We welcome donations of objects, taonga, and archives that have a strong link to this area within Waipā. Every item offered to the Museum is assessed against a range of criteria. This includes:
having a strong link to Cambridge's heritage,
relevance to our current collection,
and our ability to house and preserve it long term.
How can I donate?
If you wish to donate, please contact us to make an appointment to visit the Museum, or send a photo of the item by email. (Contact details here)
We will be interested to know as much as you can tell us about who owned the object, how it has been used in the past and any stories associated with the item.
A decision will be made to accept the donation by the Historical Society Committee at their next meeting.
Here is a diagram of the three-step decision-making process.
Any questions, please get in touch.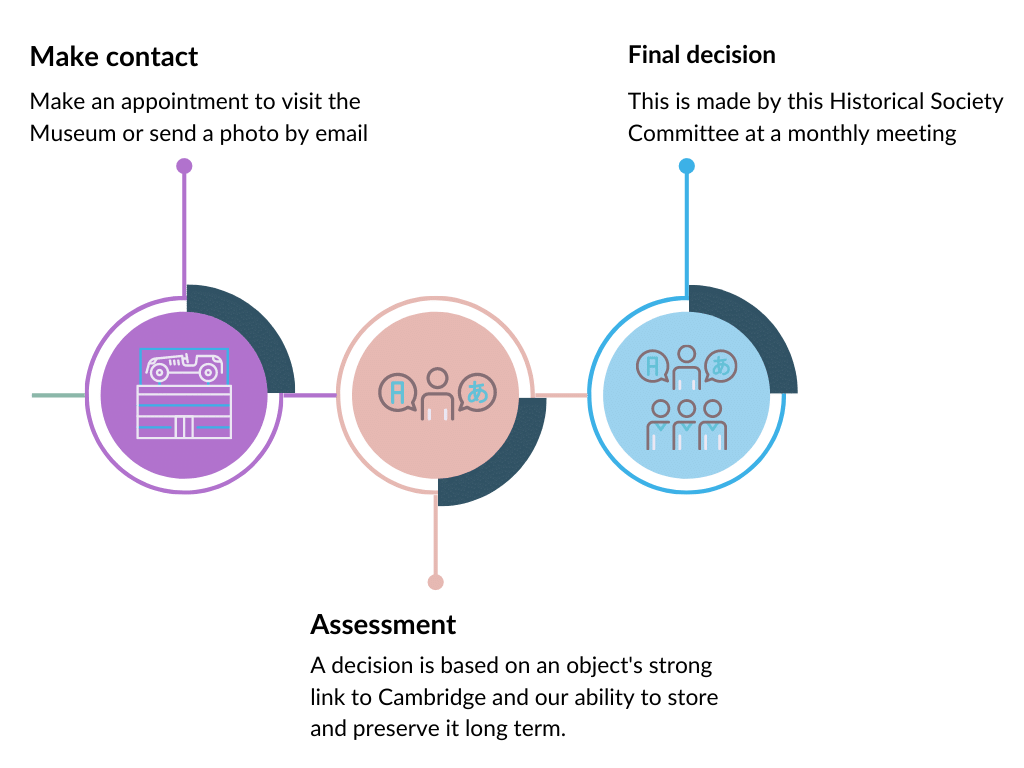 Remember, if you are interested in gifting something for the Museum collection, please don't bring it to the Museum without an appointment.
For safety reasons, staff cannot take any collection items at reception.
Contact us to make an appointment or email a photo for our consideration.