Cambridge Town
Learn about the history of town and its districts, schools and roads over the years.
View more
Karapiro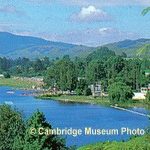 Karapiro Settlement

(From The News and Theatre Courier' 12 August 1936)
'It was in 1904 that the Gorton Estate of 8,000 acres was taken over by a syndicate and cut up for settlement. Among the first settlers were George Death, H Nicholls, J W Fisher, Percy Cutfield, E Greyburn, John Bradshaw, George Harris, W F Simpson, J McNaughton, John Gillies, A A Potts, Absolum, and G F Norris.'

'In 1897 all the big estates surrounding the [Cambridge] settlement were taken over by the Government and thrown open for selection. This was the turning point towards real progress and prosperity for the Taotaoroa, Whitehall an Karapiro districts. Mr W C Morgan was the first settler in Karapiro. Other early settlers were Joseph Wallis, Giles Keeley, Geo Price, Woolley, P Connell, William Hickey, John Harris and William Graham.'

'Today [1936] the Taotaoroa, Whitehall and Karapiro are well-settled and cultivated districts, each turning in a solid share of the district's primary production.'
Disclaimer:
While all due care has been taken to verify information contained on this site, the Cambridge Museum accepts no responsibility for any errors, omissions or misrepresentation.
Copyright © 2003 – Cambridge Museum – All Rights Reserved.