Cambridge Town
Learn about the history of town and its districts, schools and roads over the years.
View more
Ohaupo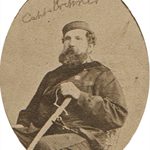 The New Zealand Government offered Captain Martin Krippner a commission with the Waikato Militia and asked him to form a company out of his newly arrived countrymen. He recruited all the single men and five of the married men and led his company off to the Waikato. Only one, Joseph Paul, returned to live in Puhoi.
The officers commanding other companies of the Waikato Militia were directed to transfer all Germans serving in their corps to Captain Krippner's third Company. Also included were men of other nationalities who spoke German. His force remained in the Albert Barracks until 29 October 1863 when the company, now numbering 48, marched to the Otahuhu Barracks. They were assigned to guarding the Maori prisoners from Rangiriri etc in the prison ships in Auckland Harbour.
The 3rd Company of the 3rd Regiment had by now been nicknamed the 'German Company' and reached Pukerimu aboard the Rangiriri 29 July 1864. Martin left Ohaupo for Owera in October 1866 never having lived on his land.
Refs: 'A History of Puhoi' by D V Silk 1923, 'From the Heart of Europe to the land of the Southern Cross' by K Mooney 1963, 'Winds of Change' by Valerie Millington and Annie Fullerton 1996.
Index of 3rd Waikato Militia men including those who were granted land at Ohaupo.
If you find someone or something of interest in this index click here to contact us with as much relevant detail as possible.
We also have brief biographical information on many of the early settlers of Ohaupo in our Biography section here.