Cambridge Town
Learn about the history of town and its districts, schools and roads over the years.
View more
Pukerimu Cemetery – Pre 1981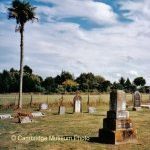 Waipa District Council administers and manages 10 Lawn Cemeteries, including Hautapu, and now has an online cemetery database to assist people searching for plot locations of deceased friends and relatives in Waipa cemeteries.
Five acres had been designated a public cemetery under 'The Cemeteries Act 1882', on section 12 on the Kaipaki Road. From 15 June 1901 the Pukerimu Cemetery (originally known as the Pukekura Cemetery) was administered by a voluntary Board of Trustees – John Fisher, James Anderson, Joseph Gane, William Scott and William Sturges. The first burial, recorded 28 October 1903, was Alice Vickers who had died two days earlier, after being thrown from her horse.
The cemetery is in the country 6 kms from Cambridge and many of the headstones record the prominent families in the Pukerimu/Kaipaki districts.
In June 1981 the Pukerimu/Kaipaki residents met and decided to hand over the running of the cemetery to the Waipa County Council (now incorporated into the Waipa District Council).
The following index is from a Cemetery Map given to the Cambridge Museum at that time.
Researched and written by Eris Parker
Ref: Cambridge Museum Archives
If you find something of interest in our index please click here to contact us.
A
ANDERSON James – 14 December 1918
ANDERSON Kenneth McKenzie – 7 September 1922
ANDERSON Laura – 13 December 1904
ANDERSON Margaret – 20 June 1918
ANDERSON Margaret – 19 January 1938
ANDERSON Murdoch George – 16 September 1915
ANDERSON Nettie – 8 October 1934
ARMSTRONG Eleanor Morrison – 6 February 1909
ATKINSON Eliza – 7 December 1914
ATKINSON Elizabeth – 15 January 1924
ATKINSON Elizabeth – 9 December 1931
ATKINSON George Henry – 23 December 1944
ATKINSON Robert – 20 April 1931
ATKINSON William – 24 November 1905
B
BELL Constance Martha – 21 January 1970
BELL George James – 1 July 1945
BELL Hilda – 1 November 1903
BELL Jane – 27 June 1922
BELL John – 6 July 1930
BELL Ralph Valentine – 1 January 1971
BERTELSEN Hans Claudius – 7 March 1936
BLACKWOOD Annie Dawn – 3 September 1962
BLACKWOOD Florence Annie – 8 November 1955
BLACKWOOD James Park – 14 September 1918
BLACKWOOD Janet – 28 December 1919
BLACKWOOD John Park – 2 April 1937
BLACKWOOD Patricia Florence – 22 August 1949
BOUCHER Ernest – 6 March 1938
BRADLEY Marion Blanche – 6 August 1978
BRIDGMAN Jane – 20 April 1923
BRIDGMAN John – 5 December 1922
BROWN Elizabeth – 8 September 1923
BROWN Thomas – 7 January 1907
BUTTLE Robert Newman – 7 February 1913
BUTTLE Sarah Elizabeth – 16 July 1926
C
CALEY Emily – 26 April 1920
CALEY Robert Henry – 20 May 1912
COURTMAN Edith Mary – 24 April 1967
COWIE Agnes Craig – 29 March 1980
COWIE Frederick John Sinclair – 1 December 1951
COWIE Margaret – 2 March 1992
CUNNINGHAM Cyril Stephenson – 22 April 1967
CUNNINGHAM Fulton – 18 September 1935
CUNNINGHAM Martha Henrietta – 20 August 1926
D
DIXON Laura Christina – 3 December 1940
DURSTON Thomas – 2 September 1920
E
EDWARDS Alice Maud – age 6
ENGLAND Betsy Elizabeth – 7 August 1918
F
FISHER Allan Muir – 29 December 1960
FISHER Douglas Beville – 2 June 1919
FISHER Ella May – 24 March 1973
FISHER Graham Muir – 11 October 1912
FISHER James Muir – 31 May 1910
FISHER John – 13 January 1927
FISHER John Muir – 4 December 1967
FISHER John Scott – 29 March 1937
FISHER Lillian Gladys – 14 July 1976
FISHER Margaret – 5 April 1932
FISHER Margaret – 24 October 1934
FISHER Marion Whitelaw – 8 July 1927
FISHER Mary Whitelaw – 24 August 1959
FISHER Maude – 24 October 1913
FISHER Maud Alice – 5 June 1917
FISHER Myrtle Clarton – 28 January 1976
FISHER Robert – 9 June 1929
FISHER Robert Dougald – 29 June 1963
FISHER Roy – 23 March 1954
FISHER Susan Gertrude – 16 April 1954
FOHSTROM Anton Herman – 18 July 1922
FOHSTROM Florence Jane – 28 January 1926
FORKETT Dora Annie – 29 January 1964
FORKETT Theodore – 13 April 1946
FOSTER Richard Fell – 6 July 1949
FOSTER Sarah Perkinson – 28 June 1934
G
GANE Eleanor Martha Jane – 25 June 1953
GANE Elizabeth – 4 July 1912
GANE Elizabeth Robyn – 22 June 1957
GANE Joseph – 8 November 1909
GANE Oswald Edwin – 26 January 1954
GANE Winifred – 19 August 1966
GARMONSWAY Charles Vincent – 2 November 1968
GARMONSWAY Margaret Alice – 2 November 1975
GOODWIN Arthur – 16 February 1964
GOODWIN John Arthur – 21 January 1930
GOODWIN Rosa Louise – 3 March 1965
GRAY Elizabeth – 22 July 1928
GRAY James – 26 January 1920
GRAY Jane – 29 August 1907
GRAY William – 20 July 1926
H
HAMMOND Sybil West – 9 August 1937
HARVEY Henry – 2 November 1961
HARVEY Louisa – 31 May 1954
HAZELTON Hilda – 3 June 1915
HEALY Maria Theresa – 8 September 1926
HEALY Thomas – 27 April 1935
HIGGINS Eva Elizabeth – 9 October 1923
HIGGINS Florence Myrtle – 7 November 1936
HIGGINS Thomas George – 6 July 1950
HOWARTH Beverley Ann – 10 December 1952
HUDDART Kathleen Amy – 15 January 1978
J
JARDINE Francis – 26 May 1910
JEFFARES Frances – 28 November 1920
K
KITE Elizabeth – 3 October 1968
KITE James Walter – 22 October 1934
KITE Sedleigh Norris – 12 April 1962
KITE Winifred Mary – 28 April 1974
L
LONGBOTTOM John Richard – 4 December 1918
LYNDS Martha Harriet – 10 May 1921
Mc
McDONALD Athol – 22 July 1934
McDONALD Ian – 8 December 1939
McELDOWNEY Edgar John – 23 October 1973
McELDOWNEY Grace Mary – 19 June 1975
McLAUGHLIN Thomas Robert – 4 October 1913
McNEIL Sarah – 29 May 1909
McKINNON Donald – 28 December 1934
McKINNON John – 20 April 1917
McKINNON Margaret – 22 August 1931
McKINNON Neil – 13 May 1939
McPHERSON John – 30 May 1908
M
MACKERETH Annie Margaret – 1 February 1927
MACKERETH Jessie Annabella – 9 June 1906
MANDER Florence May – 21 November 1932
MANDER Mary Ann – 19 October 1950
MARSHALL Constance Maud – 26 November 1921
MELLOW Marie Kathleen Joyce
MELLOW Mary Elizabeth – 6 February 1975
MELLOW William Richard James – 7 February 1968
N
NICKLE George Robert – 16 April 1939
NICKLE Lily Ida – 2 December 1935
NICKLE Rita May – 15 March 1911
P
PATON George – 5 February 1908
PATON Mary – 21 May 1942
PERKINS Margaret – 8 December 1943
PERKINS Margaret – 18 May 1950
PERKINS William Thomas – 13 October 1930
PETRICH Bartel – 14 November 1971
R
ROUT Mary Ann – 28 August 1914
ROUT William – 20 August 1909
S
SCHOLES Alice – 16 July 1913
SCHOLES John – 10 October 1919
SCOTT Alfred William – 19 July 1965
SCOTT Anna Wallace – 13 October 1956
SCOTT Charles – 29 October 1943
SCOTT David – 26 October 1926
SCOTT Elizabeth – 13 September 1924
SCOTT Ellen Margaret – 2 April 1962
SCOTT James – 9 October 1931
SCOTT James Robertson – 18 February 1966
SCOTT Jane – 25 December 1930
SCOTT Sarah Mitchell – 26 April 1963
SCOTT Una Alice – 12 February 1973
SCOTT William – 15 October 1914
SEARLE Annie – 17 November 1957
SEARLE John – 16 February 1968
SEARLE John A – 16 November 1945
SMITH Amy – 2 August 1927
SMITH Andrew John – 20 August 1928
SMITH Charles Gibson – 10 January 1924
SMITH David Paxton – 11 February 1924
SMITH Henry Talbot – 20 August 1979
SPEAKE Baby – 19 April 1943
SPEAKE Emily Jane – 22 December 1951
SPEAKE Ethel – 3 June 1963
SPEAKE John A – 16 November 1945
SPEAKE Muriel – 19 August 1973
SPEAKE Robert Gittins – 19 February 1977
SPEAKE Robert Gittins – 26 April 1934
STRAWBRIDGE Elizabeth – 3 August 1937
STRAWBRIDGE Joseph – 16 August 1910
STRAWBRIDGE Mary – 3 June 1912
T
TARR Martha Frances – 5 December 1938
TARR William George – 7 May 1959
TEDDY Mona – 10 August 1915
TIPENE Erina – 11 September 1980
TIPENE Pania Marie – 15 May 1967
TIPENE Ropere Ropere – 10 January 1967
TIPENE Te Mana Ropere – 18 July 1979
TODD Herbert – 9 August 1957
TODD Mary Ann – 10 November 1947
TOWNSEND William – 14 March 1925
TRUTER Elizabeth – 22 May 1919
TRUTER Michael Lawrence – 2 February 1923
TUCKER Mary Ann– 8 June 1925
TUCKER William – 30 July 1917
V
VICKERS Alfred Henry – 28 November 1953
VICKERS Alice – 26 October 1903
VICKERS Harry – 7 September 1932
VICKERS Joseph – 3 September 1908
VICKERS Leslie – 16 September 1917
VICKERS Louisa – 26 September 1907
VICKERS Margaret Elizabeth – 2 May 1977
VICKERS Mary Agnes – 1 May 1954
VICKERS Trevor George – 6 March 1947
VICKERS Wright – 4 May 1915
W
WADE Albert George – 31 December 1945
WADE Mary – 21 December 1963
WADE Walter Beville – 9 March 1918
WAHAPU Hone Henare – 20 October 1968
WAHAPU Mary Te Anganui – 19 June 1969
WALLIS Elizabeth – 8 October 1943
WALLIS Joseph Coates – 30 June 1933
WATKINS Ellen Mary – 23 March 1941
WATKINS Horace Albert – 9 June 1979
WATKINS Mary – 11 February 1911
WATKINS Matthew Lewis – 20 July 1921
WATSON Agnes Jane – 30 May 1939
WATSON Henrietta – 20 August 1976
WATSON Ida Alice – 12 July 1981
WATSON Mary Elizabeth – 26 May 1936
WATSON Robert – 8 August 1979
WATSON William – 11 June 1929
WILLOUGHBY Elizabeth – 19 May 1945
WILLOUGHBY Grace Rebecca – 6 July 1976
WILLOUGHBY Henry – 15 June 1912
WILLOUGHBY John Henry – 11 July 1975
WILLOUGHBY Mabel Emma – 18 May 1935
WILLOUGHBY Mary Jane – 15 August 1909
WILLOUGHBY Mary Jane – 22 June 1957
WILLOUGHBY Samuel – 13 April 1978
WILLOUGHBY William – 6 June 1935
WILLOUGHBY William Robert – 14 September 1923
WRIGHT Elizabeth – 5 July 1960
WRIGHT John James – 5 October 1978
WYATT Frank Herbert – 20 October 1955/58
WYATT Isabel – 10 November 1959