Cambridge Town
Learn about the history of town and its districts, schools and roads over the years.
View more
Pukerimu School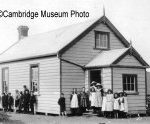 Within a decade of settlers taking up farmland in 1865, a school was needed. The residents offered to build a school at their own cost if the Auckland Education Board would provide a teacher and the furniture. Land was donated by Robert Fisher.
The first committee was Dan Caley chairman, Joseph Gane secretary, John Fisher, E B Walker and Archibald Wallace. The building was opened 23 January 1876 and consisted of a room 30 feet by 18 feet with a porch attached. A house for the teacher Mr Olby, was completed January 1877.
The next teacher, Mr Bedford arrived in June 1877. Mrs Bedford was employed to teach two hours daily for an allowance of £30 per annum.
The Attendance Roll for July 1878 – June 1879 includes the following names:
George Henry Atkinson
Alfred Ernest Bedford
Edith Bedford
Frederick Bedford
Vivian Bedford
Elizabeth Bell
Ernest Bell
Jos Bell
Phoebe Bell
Charles Caley
John Caley
Thomas Caley
Annie Clark
Florence Clark
Harry Clark
William Clark
George Cowley
Mark Cowley
Jessie Fisher
John Fisher
Margaret Fisher
Annie Fitzgerald
Catherine Fitzgerald
Mary Fitzgerald
Christina Gane
Ellen Gane
Francis Gane
Gilbert Gane
Mary Gane
Agnes Howie
Elizabeth Howie
James Howie
Arthur Kusab
Charles Luiche
Harman Luiche
Christopher Parr
Ellen Parr
Mary Ann Parr
Sydney Richardson
Bessie Scott
Jeanie Scott
John Scott
Agnes Wallace
Margaret Wallace
Marion Wallace
William Wallace
(If you find something of interest please click here to contact us.)
Researched and written by Eris Parker
Ref: Cambridge Museum Archives