Cambridge Town
Learn about the history of town and its districts, schools and roads over the years.
View more
Roads – L, M, N, O, P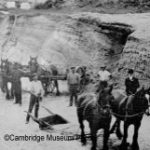 Personally Researched and written by Eris Parker 1989
LANG ROAD
This road was known as Lawrence Access Road as a Mr Lawrence had had a run-off property there. The Langs bought their farm c1930 and Russell and Margaret moved there in the 1950's. In 1957 the road was extended to Scotsmans Valley and subsequently named Lang Road.
LAURENT ROAD
Wilfred Rudolph and Elsie Ann came to Cambridge in 1929 and bought 100 acres from James Taylor. Wilf was the first president of the Bardowie Golf Club, and a keen bowler. They retired in 1946 and son Vern, with his wife Nellie, took over the farm. Wilfred died 1982 and Elsie 1965.
LEE MARTIN ROAD
Mr Lee Martin lived on this road between Bruntwood and Matangi and, as chairman of the Road Board, was instrumental in having the first tar sealing done on the road to the factory. He later became a Labour Party member of Parliament. This farm has recently been sold from the family.
LUCK AT LAST ROAD
One story goes that in 1907 two locals, in sheer desperation to get this road, went to Wellington with their case. The telegram eventually came back, 'Luck at Last'.
But this is the story as told by Will Hicks – 'Mr G S Day, Mr E Nickle and my father Mr J T Hicks were early settlers along what is now Luck at Last Road All the timber for the houses etc, was carted across country, creeks etc having to be forded. At the opening of the High Level Bridge between Leamington and Cambridge, by the then Prime Minister (sic), Mr Day and my father were able to meet him and put their case, which he said was a very deserving one. Shortly afterwards work began on the road and after waiting for five years these settlers had a road. Next, the Matamata County asked for a suggestion for a name. My Mother put forward the name Luck at Last and it was accepted.'
LYNDS ROAD
Samuel Oscar George Lynds, born 1859 in Onehunga, and Martha Harriet nee Burton, went to Kaipaki in 1918. They had nine children, Oscar George being the son who took over the farm. He married a Cambridge girl, Edith Annie Wayman.
The community around Lynds Road was such that it supported a blacksmith, a sawmill, a dairy factory and there had been a Post Office not far from the school. The Drainage Board in that district came into existence in 1910 and that helped the swampy farms considerably. Ossie Lynds (the next generation) became a member of that Board. Roads were another priority and George Lynds carted many loads of metal towards their construction. The Lynds family left Kaipaki in 1962.
McELDOWNEY ROAD
This family came from Wellington and bought a 250 acre farm from Mr Retter at Kaipaki in May 1920.
McLARNONS ROAD
Two brothers Thomas and Robert McLarnon moved from Papatoetoe in 1914 and were among the original settlers on the Monavale Estate. They spent many years transforming the swamp into fertile land. Robert married Annie Gillard, and had three children. Thomas married Catherine Bainbridge, had three children, was the president of the Monavale Settlers Association in 1919 and they opened their home for local garden parties and tennis matches.
MAKGILL ROAD
This road, formed in 1934 is the only reminder left in the Oreipunga district of the men behind its early development. David and John Edward Makgill in partnership with George Middleton bought the Horahora Estate in 1907 and started to farm the area. Slowly individual farms were sold off as more settlers moved into the area.
MARYCHURCH ROAD
This road was known as Tainui Road, because of the pā at the Matangi end and was later renamed Marychurch Road after Henry Marychurch who farmed 178 acres at Matangi from 1908 until his death in 1939. According to Henry's obituary in the Waikato Times, he was an active member of the Matangi Community
With thanks to Arthur Marychurch
MATHIESON ROAD
Mr and Mrs Horace Mathieson arrived in 1907 and in 32 years had transformed their 600 acres of bush and scrub into a highly productive farm. In those days the only form of transport was a pack horse led over a bridle track and the only way to get anything done was with the aid of a sharp axe, strong arms and a stout heart.
The Buckland Road hall, which was at the end of Mathieson's Road, has since been moved and serves as a woolshed.
MILL ROAD
Patrick Leslie who came from Australia and stayed for ten years owned this property at Bruntwood c1871. His 1,000 acre property was called 'Wartle', he had a large house and garden and employed three gardeners.
There used to be a windmill on Mill Road.
MILLS ROAD
Named after the Mills family who came to the Kaipaki district c1910. Two sons Walter and Gordon still live in Hamilton.
MUIRHEAD ROAD
Peter Muirhead arrived from the South Island in 1908 and bought 2,600 acres of land at Whitehall. 1,000 acres had been cleared but the rest was in bush. Peter left in 1917 to serve in World War One and his brother Colin, with wife Jessie and son Bob, came to manage the farm. About 1920 they bought 418 acres and their sister Margaret joined Peter at 'Tawanui'.
Colin died in 1931 and the Muirhead families now have had four generations in the Te Miro district. The original 2,600 acres was subdivided into the four farms of Don Mackie, Brian Oliver, Roy Calvert and Peter Allen. Then the road was opened up after World War Two.
NARROWS ROAD
The Tamahere bridge was erected in 1879 with a £300 subsidy and the balance raised by voluntary subscription from the settlers. The road was formed along the boundary of Martyn's and Graham's properties and was an essential access to the Ohaupo sales – the largest in the Waikato at that time.
NICKLE ROAD
Formerly this was All Saints Road because 170 acres were owned by the Seventh Day Adventists who built a three-storied boarding school there in 1907. As well as education they aimed at self-sufficiency and undertook agriculture, horticulture, beekeeping etc. The Head Teacher was Mr F L Chaney and Mrs Bertha Chaney taught languages and physiology. The school was closed down in 1911 in favour of a more central location at Palmerston North.
William Nickle bought this Pukekura property in 1911 and a fire broke out and burnt the school just before he moved in.
His parents, Robert and Mary Ann Nickle, had arrived in New Zealand in 1878 to take over the 80 acre farm of Isaac Morrow, Mary Ann's deceased brother. Robert died in 1884 so his wife and seven children carried on, adding more acreage from other properties. For many years the sons of Robert and Mary Ann owned a considerable portion of Pukekura and Roto-o-Rangi and although the original 80 acres have been sold there are still Nickle connections in the district.
NORRISH ROAD
Named after two brothers, Richard and Francis Norrish, who bought a 200 acre farm at Kaipaki in 1875, having been sponsored to New Zealand by George Clark. When they needed accommodation for their worker they cut timber from trees on the property and built him a house. An era when, if you wanted something done, you did it yourself.
NORWEGIAN ROAD
This was known as Hannons Road until 1958 but had been referred to as 'Norwegian Mill Road' by the Pukekura Road Board in 1895. Two Norwegians in 1869 lived nearby and, when not employed on the Roto-o-Rangi estate, they worked a flax mill at the entrance to the quarry.
From the Norwegians corners, access to the farms near the Confiscation Line was by a dray road, parts of which are still visible.
OLIVER ROAD
William Alfred and Violet Lydia Constance Oliver bought 1,212 acres from Peter Muirhead at Whitehall. William died in 1914 and the farm was managed until Brian, one of their sons, took over in 1936. At one stage 600 acres of bush was felled by Dave and Esau Pretty – everything under 3 feet in diameter was left and burnt.
PEAKE ROAD
Part of this road at Hautapu was known as Broadmeadows Road. The forming of this road from Station Road to the new creamery was done by William Eastwood for 4s 3d per chain.)
Noel and Mary Peake bought 17 acres just off Hamilton Road in the 1920's. Previously they had lived at Roto-o-Rangi and raised three children – Ken, Rob and Vin. Noel had been a member of the Mangapiko Drainage Board in 1914, served as chairman on the Hautapu School Board and the whole family was interested in sport – especially polo.
PENCARROW ROAD
John and William Martyn from Cornwall named their 2,000 acres at Tamahere, 'Pencarrow' in 1866 and they developed this into a first class farm. There were two homesteads with orchards, gardens and trees. The farm was grassed and stocked with sheep, cattle and horses.
'Merrylegs' was their trotting stallion and 'Black Champion' their draught stallion – both renown for improving the breeds in the district.
Cornelius Day bought the Pencarrow Estate and this was subdivided in 1914, at which time the road was named.
PICKERING ROAD
Martin Herbert Pickering bought the 200 acre property 'Fernando' (a corruption of 'Fern End') from Mr Snowden for £10 an acre in 1881. He had come from Yorkshire in 1879 having gained his education and farming experience in that county. He married Catherine Barugh in 1883 – the first marriage to be celebrated at St Stephens church, Tamahere. They had one son and five daughters and descendants still farm at Tamahere.
In the 1900's Martin Pickering had a stud flock of Lincoln sheep. He was a member of the Cambridge Road Board and Tamahere school committee, Director of the Dairy Co-op in 1912, an enthusiastic member of the Waikato Hunt and a supporter of the Waikato Agricultural Association.
William Eastwood won the tender to form Pickering's Road from the main road to Newcombe's gate for 3s 8d per chain.
PUKERIMU LANE
This had always been surveyed as a road but never used. It was incorporated into Scott's property and then reverted when the sewerage ponds were constructed beside the river.