Cambridge Town
Learn about the history of town and its districts, schools and roads over the years.
View more
Roads- Q, R, S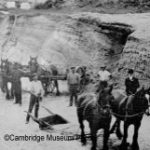 Personally Researched and written by Eris Parker 1989
RANSTEAD ROAD
William Ranstead and his wife Margaret came to the district in 1903, farming first at Ohaupo then on 600 acres at Matangi. They had five sons – John, William, Thomas, Ralph and George – and two daughters, Bessie and Isobel. Ralph took over the running of the farm and married Doris Brown and had a son Ray and two daughters. At first their home was at the end of a grass track and later this became Ranstead Road. It wasn't too long before they became noted stock breeders.
RACECOURSE ROAD
Formerly No2 Station Road running between Hamilton Road and Hannon Road. The Waikato Advocate of 1895 reports on a Cambridge Road Board meeting –'Mr Thomas was authorised to get a few 9 inch pipes for the culvert on No2 Station Road, near Forrests'.
RINGERS ROAD
Paul and Esther Ringer had been married about three years when they arrived in 1905 from Stratford. They had seven children – Elsie, Fred, Walter, Florence, Lucy, Lily and Jesse – and the farm has recently been sold out of the family.
ROBINSON ROAD
Thomas Robinson arrived in New Zealand from Cumberland on the ship 'Kaikoura' in 1896, aged 31. He worked as a teamster for W S Park and the Monavale Estate, then in 1900 bought 261 acres at Roto-o-Rangi. In 1902 he married Margaret Muir Fisher, daughter of the Hon. John Fisher, and they had two children.
Thomas was the one and only chairman of the Roto-o-Rangi Road Board from 1917 until it was taken over by the Pukekura Road Board. He was also chairman of the Dairy Co at the tricky time of 1921-1936.
REYNOLDS ROAD
Named after Richard Chidley Reynolds, who arrived with his parents, three brothers and sister, in 1868 and was resident in the district for nearly sixty years.
He was a pioneer farmer and an excellent judge of stock – at one time he had kept four purebred dairy herds as well as Lincoln sheep that he sold in the Argentine. With his brother Henry he started the first creamery at Pukekura from which has sprung the great Anchor butter industry.
Richard had a great love of trees and his properties of 'Wai Valley' and 'Trecarne' as well as Cambridge itself, still display evidence of his passion. His energy was used to transform his properties into profitable farmland – these include 'Trecarne' 800 acres, Maketu 2,000 acres and Monavale 1,400 acres.
Richard was married twice – firstly to Susan nee Brown then to Margaret Elizabeth nee Kells – and had nine children.
ROBERTS ROAD
At the top of this road in Horahora was a village called Waniwani. The road was named after Les Roberts' family, which arrived in the 1920's.
SAVILL ROAD
This is now a part of Pencarrow Road and used to be known as Bald Hill Road.
Arthur and Mary Savill and eleven children arrived at Tamahere in 1926 but it wasn't until 1950 that the road was joined to Pencarrow Road. Waikato County Council changed the name in the 1970's.
SCOTTS ROAD
Named after John Mungo Scott who was born 16 June 1868 at Mangere and arrived with his parents in Cambridge 1888. In 1896 he bought from Donald Stubbing 290 virgin acres situated between the Horahora block and Maungatautari. He later added 400 acres from the Horahora Estate.
In 1904 he married Ellen Kingsford, a school teacher who wasn't too impressed with the track up to their house 'Tioriori', reached through collapsible wire 'Taranaki' gates.
SKEETS ROAD
Frederick and Martha Skeet lived at Monavale in the 1920's before moving to Leamington and putting a manager on their farm. They had two daughters – Frances (Betty) and Allison (Elsie).
SMART ROAD
Mr and Mrs Henry Albert Smart and nine children moved to French Pass from Hawkes Bay in 1908. As a young boy in Christchurch, Henry was a blacksmith's apprentice and then turned his attention to fruit farming in Hawkes Bay before coming to the Waikato.
SPEAKE ROAD
Before it was graveled this road at Kaipaki was known as the Green Road. Robert Gittens and Emily Speake from Shropshire and Ontario respectively, came to Cambridge in 1895. They had a family of nine and the farm was sold in 1987.
ST KILDA ROAD
Maclean & Co of 'Fen Court' envisaged a town at St Kilda and actually commissioned G F Hoskings to survey 300 acres into sections.
St Kilda Road could have been the site for Maclean's racing stables because when the Nicholl family arrived in 1901 a large stable was still on the property. This had double doors at both ends, stalls along both sides with a loft and the men's quarters upstairs.
It has been said that the area where the school is at Fencourt was Maclean's horse paddock, which he called 'Goodwood'. There does seem to be a consistency in these English names.
STOKES ROAD
When Uriah and Julia Stokes arrived in Horahora in 1906 from Waiuku they share milked for Middleton and Makgill. Then in 1912 they bought lot 14 of the Horahora Estate and their sons worked this land between milkings.
Another farm was bought at the end of the road and son Alf took this farm over when he returned from the First World War. Uriah worked as a surfaceman for the Road Board.
SWAYNES ROAD
Robert and Catherine Swayne lived on their farm 'The Oaks' at Fencourt all their married life. Robert was born in Tasmania in 1851 and came to Cambridge at the age of 13, his father being in the 3rd Waikato Militia. He married Catherine Kenny in August 1877. She was born in Co Clare, Ireland and came to New Zealand aged 15. They had eight children.
Robert was chairman of the Cambridge Road Board 1907-1909, a director of the Cambridge Co-op Dairy Co 1908-1921, on the Waikato Hospital Board, Fencourt and Hautapu Drainage boards and Waikato County Council.