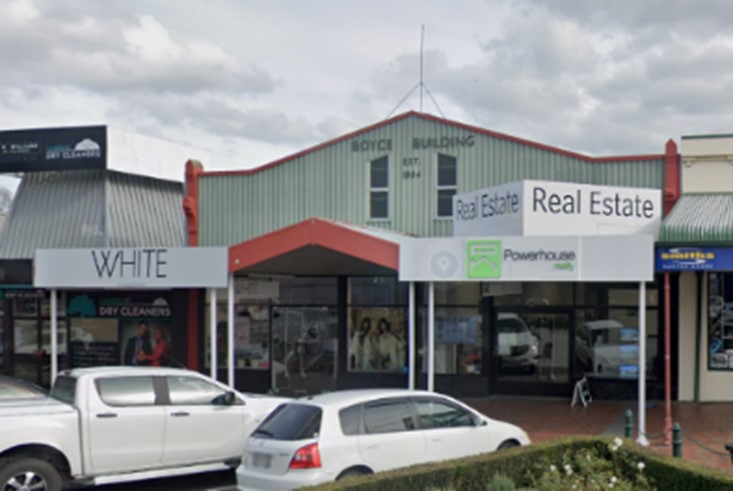 Robert Boyce – Pharmacist
-
The Boyce family go back a long way in Cambridge.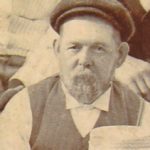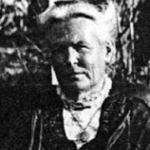 Robert's grandparents Charles and Sarah Boyce (pictured) arrived in Cambridge in 1874.  Charles worked as a cooper (barrel maker) for Hally's Brewery, later setting up a cooperage of his own to supply the town with churns, butter kegs and cheese vats.  In 1884 he opened a bakery and general store.  Charles and Sarah had eleven children who were known as enterprising and musically gifted[1].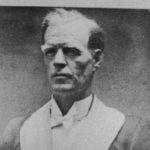 Their eldest son Charles (pictured) was Robert's father. Charles married Lillian and they had four children.  Charles worked with Charles Snr in the bakery, eventually taking over the business until he was struck down with influenza during the 1918 pandemic.  He disposed of the bakery and worked, with his brother Thomas, in Boyce & Sons general store.
Charles Jnr was an authority on native flora and a fluent te reo speaker.  He was bandmaster, past master of the Alpha Masonic Lodge, a JP, Borough Council member and member of the St Andrew's church and choir.  He took a keen interest in athletics.  He was still working with his brother in the store when he died in 1942 at the age of 62.  Thomas sold the business in the 1950s.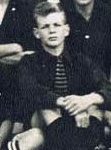 Robert (Bob) Boyce was born in 1912.  He attended Cambridge High School (pictured there in 1926), and then worked for a short time as assistant in a pharmacy at Te Kuiti before becoming manager of his uncle's pharmacy in Opotiki.  He opened his own pharmacy in Cambridge in 1936, eventually (in 1949) moving his premises into the original Boyce & Sons building at what is now 73 Victoria Street.  (In 1969, the frontage for the building was redesigned and rebuilt.  Its signage reads "Boyce Building est. 1884".)
Bob Boyce worked at his pharmacy for over 60 years.  During WWII pharmacists were among workers required to stay at home in New Zealand and work for the war effort.
While Bob's wife Ruby looked after their young son Tony, he juggled his work at the pharmacy with volunteer ambulance duties.  He would have to shut up to take patients, with diseases such as meningitis, diptheria and influenza, to the hospital – quickly, as these were often fatal if not treated immediately. Bob said he and the other ambulance officers deodorised themselves once they got back and used antiseptic spray for their noses and throats so that they could not catch the disease and pass it on to others.  (Despite driving the ambulance during the war years, Mr Boyce did not get his official driver's licence until he bought a brand new Morris Oxford in 1953, which he kept all his life.)
Throughout the war and for some years afterwards, there were severe shortages of everyday supplies, and certainly no fancy cosmetics for Bob to offer to his customers.  As well as supplying prescriptions to the townspeople, Boyce's pharmacy made up calf drenches and "all sorts of things" for farm animals.[2]
Bob's son Tony joined the pharmacy as an apprentice in 1959 and worked with his father, eventually taking over the business in the 1990s when Bob retired.  Mr Robert Boyce passed away in 2002, aged 90.
When Tony sold the business to Munro Burgess Amcal in 2005, he remarked that he had seen generations of customers come and go.  The biggest professional change for him had been the dispensing of pre-mixed medicines instead of pharmacists mixing the prescriptions themselves.  He also spoke of looming problems as the rising cost of healthcare and an aging population collide.
Tony worked part-time for Amcal before retiring in 2008 after nearly 50 years of service as a pharmacist.
The Cambridge Museum is planning a "How are you? Kei te peehea koe?" exhibition in November 2021 featuring objects and ephemera from Boyce's Pharmacy.
Written by Karen Payne
Published in the Cambridge Historical Society Newsletter October 2021
[1] Family history by Ian Boyce
[2] Robert Boyce Interview, Cambridge Independent, 13/8/1992