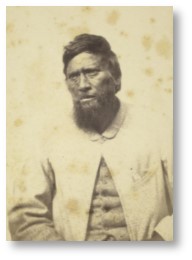 Te Ihingarangi – Part 8
-
Part 8 of a history of the Karapiro-Maungatautari area by Te Kaapo Clark and Lyn Tairi.
Pictured above, Portrait of Tioriori, principal chief of Ngāti Koroki of Maungatautari, 1863.  Source: Auckland Libraries Heritage Collections 661-24  (view source)
1800
KO NGATI RAUKAWA, NGATIKOROKI, NGATI WAIRERE, NGATI HAUA
In 1846 a flour mill was built and in 1852 another was built because Ngāti Koroki "had extended their growing to such a scale that their mill could no longer cope with the harvest and in consequence they planned a further one, as well as a brick oven for bread, the whole to cost £350…."
In 1856 Mr and Mrs James Shepherd set up a trading store about half a mile from Whareturere. Mrs Shepherd recorded in her diary, "we sent several tons of bacon and flour to Auckland… All the bacon was cured for us before it was packed in flax kits for the market… Maungatautari was a most prolific place with large plantations of raspberries… and large groves of peach trees."
By 1859 the situation had begun to change. Mrs Shepherd noticed the people were worried about the situation in Taranaki, where a dispute had arisen over land sales. Tension was also increasing in the Waikato as Pakeha wanted more land, and had become uneasy over the establishment the Māori King Movement in 1858.
Hostilities broke out after General Duncan Cameron's troops crossed the Mangatawhiri River (at Meremere) on 12 July 1863. At the Battle of Rangiriri, Tioriori  was taken prisoner. He was interned on board the hulk 'Marion', along with other prisoners taken at Rangiriri. Tioriori had been injured saving the life of a British soldier by moving him from open ground into a hollow.
Tioriori later recounted the incident: "During the attack upon Rangiriri I saw a wounded soldier; he had ribbons upon each side of his coat; he was lying in a position where he was liable to be struck by the bullets of both his friends and foes. I went to save him, so that I might say 'he is a man whose life I saved'. I assisted him to rise and with my arms extended, supported him towards a hollow, where he would not be exposed to the fire of either party. Whilst I was in the act of assisting him I was struck by two balls, one immediately after the other, one in the heel, the other in the calf of the leg. I then left him and returned to the pa…"
This action, and the fact that Tioriori had warned and helped Mr Berry and Mr Underwood leave Te Wharangi before the war started, led Governor George Grey to lobby for Tioriori's early release. The Government decided not to release him because "It [was] well known that Tioriori was infirm of purpose, and that in joining in the Rebellion he suffered himself to be over persuaded by his tribe and friends…. Ministers cannot believe that it would be judicious to place him for the present in a position in which he could possibly be again subject to the same influences!" Tioriori was released by September 1864.
Published in the Cambridge Historical Society Newsletter – March 2022