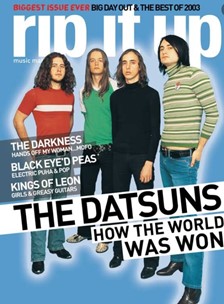 The Datsuns
01 May - 31 October
Can you believe that this Cambridge band has now been around for over 20 years?  This year they released their seventh album, reminding us why this band has survived for so long.
They've been described as grunge, garage metal, heavy metal and garage punk. Their music is a clashing rollercoaster of sound – urgent, energetic and loud.
Back in 1995 when they were still at Cambridge High School, Dolf de Borst, Phil Somervell and Matt Osment formed a band called Trinket.  Christian Livingstone joined the band in 1997, and in 1998 they were skilful enough to open for Swedish garage punk band The Hellacopters in Hamilton.  (A connection with The Hellacopters remains today with de Borst currently living in Sweden and a touring member of the band.)
In the early days, the band practised upstairs in the Cambridge Town Hall.  Mayor Buckland could not have foreseen, when he laid that foundation stone for the Town Hall in 1907, that 90 years later it would be reverberating to the clash of heavy metal.
In  2000, Trinket changed its name to The Datsuns and no-one can argue with the brilliance of that move.  Funny, nostalgic and kiwi, the name resonated equally well overseas.  The four band members had retro cool in spades and, fortunately for them, the garage metal influences of their music were undergoing a resurgence internationally.  That same year, their first 7-inch vinyl "Super Gyration!" was released, and they opened for the White Stripes in Hamilton.
The following year, The Datsuns toured Australia and released four more songs, including "MF from Hell" – written for the sole purpose, it would seem, of antagonising the parents of young people. The song explodes with energy, its lyrics are unforgettable and, like the name of the band, it makes you grin.
In 2002, The Datsuns recorded two John Peel sessions, which launched their career.  John Peel was an English DJ from 1967 until his death in 2004. He had an enthusiasm for music outside the mainstream and had launched the careers of countless recording artists through the Peel Sessions recorded and then played on his radio show.  He was also a percipient and very funny writer.  Some of the musicians he promoted over the decades were The Kinks, David Bowie, T-Rex, Jimmie Hendrix, Elvis Costello, Led Zeppelin – and now The Datsuns, so this was a big deal.  In a recent interview[1], Somervell said: "That came from us just sending him [Peel] a 7-inch and a funny photo and a letter, and then … he opened his show with one of our songs and things kicked off from there."
Having slept on the floor of a friend's house for some time, they enjoyed the expensive meals paid for by the record companies lining up to sign them.  On one occasion, they were given "Led Zeppelin box sets that were brought to the table on a large platter covered with banana leaves."[2]
Before long, there were London live shows, a signing with Richard Branson's V2 Records, and appearances on "Top of the Pops" and "Later with Jools Holland" alongside Coldplay, the Foo Fighters and Robbie Williams.  Their debut album hit No.1 in NZ and No.17 in the UK, they were on the cover of rock magazine NME and lead singer Dolf de Borst (or Dolf De Datsun as he was billing himself) was No.3 in the "cool" list of 2002.  Looking at this 2003 cover photo of RipItUp (courtesy of Simon Grigg), we can all see why.
The next few years involved constant touring, recording, and fraternising with music idols.
Their fourth album "Headstunts" recorded in 2008 was the first with new drummer Benjamin Cole – whose parents Michael and Dayelle, incidentally, have long been associated with the Cambridge Historical Society.

Dolf De Borst once said: "This band's like a four-way dictatorship. Everybody's got their own camp and wants to push it 'in this way'. They say that a compromise is a situation where nobody is happy. That is kind of how it is with the band. We recognise that it is part of the strength too. The band is still going and we've made six records."
Seven now, counting their 2021 album "Eye to Eye" (pictured).  Why not surprise family members by buying them a Cambridge classic?
The Datsuns display is at Cambridge Museum during Autumn/Winter 2022. 
Published in the Cambridge Historical Society Newsletter October 2021
[1] Music101, June 2021
[2] Audioculture.co.nz