Cambridge Town
Learn about the history of town and its districts, schools and roads over the years.
View more
Taotaoroa District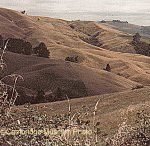 Taotaoroa
(From The News and Theatre Courier' 12 August 1936)
'Born in the Taotaoroa district, as the son of one of the original settlers, Mr Bruce has many vivid personal recollections of the early days. Taotaoroa and Whitehall had its first settlers way back in 1871. They built their homes with slabs hewn from the adjacent forests. With floors of clay and roofs of shingle under such primitive conditions sturdy men and women laid the foundations for prosperity to build upon. The first families included William Stanley, the Rev. Thos Bruce, Tom Qualtrough, John Hunt, father of Sir William Hunt, the Norris family, the Hewetts, Brunskills, and Wallis. About this time William Buckland was farming the Gorton Estate and it was he who sold most of the farms to the early settlers. The Gorton Estate was purchased a few years later by Sir James Fergusson, father of Sir Charles Fergusson, a former Governor General.'
'March of Progress' by John Bruce.

'Where the winding bridle path led in days gone by, we pass swiftly along broad and smooth highways. Where clear crystal water flowed over the rocky ford, whispering sweet music in our ears, we pass over a two-way concrete bridge. Today our ears are filled with the hum of motor engine; overhead we hear a resounding roar and gazing skywards, we see a monster of the air, with its human load, flying swiftly on its way.'

'Where once the crude whare stood with the camp oven suspended over a blazing log fire and with only the dim light of a candle, stands a well appointed home with an electric range in the kitchen corner. We but press a button and our dinner awaits us; press a button on the wall and rooms are flooded with light; ring a bell, connect up and talk with our distant friends; adjust the wave length, press a button, listen in and hear men and women speak from distant countries. Sitting in our easy chairs we read our newspapers, printed but a few hours ago in our towns, and delivered to our doors by our rural motor service.'

'We place our cream-cans on the roadside, and they are picked up by a motor service and are delivered to our up-to-date butter factories, with their huge churns driven by electric power. We sit on a stool in our modern cow-sheds, press a button and machines milk the cows.'
'We have all these things and many more; and yet are we happier or more contented people than the old pioneers that blazed the track?'
Taotaoroa District
After the confiscation of Waikato land in 1864, the Taotaoroa district was mainly still in Maori ownership. To bring Maori land into a legal system, blocks were granted to Maori who proved their right to a particular acreage in the local Land Court.
William Thorne Buckland may have had an informal lease over the Hinuera No 2 Block, but in November 1868 this became a legal agreement. For £60 per year he leased 28,205 acres for a term of 21 years.
Within days W T Buckland bought the south-western portion of the block – 4,676 acres – for £900. About a year later he bought another 7,583 acres and by January 1873 he had purchased the rest of the block at a total price of £3,045.
W T Buckland died in 1876 and the land, which later became known as 'Ratanui', was owned by William Francis Buckland and his son Charles Channing Buckland at the turn of the century. This was sold to J H Wallace who subdivided the 5,642 acres into twelve farms. The property changed hands several times, diminishing in size as sections were bought individually.
( Extract from Phyllis Jean's booklet 'Taotaoroa Karapiro and Whitehall'. 1997 )
Disclaimer:
While all due care has been taken to verify information contained on this site, the Cambridge Museum accepts no responsibility for any errors, omissions or misrepresentation.