Collections
Our Cambridge Collection has changing exhibitions about Cambridge.  Much of our collection is in storage to ensure its preservation for future generations.
A Town United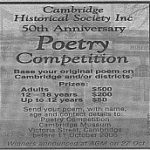 In October of 2006, the Cambridge Historical Society celebrated its 50th Anniversary and a poetry competition was held as part of the celebrations. Entrants' original poems were to be based on the subject of Cambridge and/or the surrounding districts and we present here the prize winners of each section together with some of the highly commended entries.
by Amy Lewin aged 13 years – Winner 12 to 18 years
Let me stand and spin
Under trees with leaves so green
Let me laugh and wave
At all the friendly people I've seen
Let me walk unhindered
Through the middle of town
Let me share a knowing smile
With all of those around
Let me listen to the birds
Who sing so sweetly for us
Let me hear the clock strike the half-hour
And look up to see no rush
Let me visit all my neighbours
And sit to talk for hours
For what more peace in a town of trees
Can I find than in the ones that unite us?