Collections
Our Cambridge Collection has changing exhibitions about Cambridge.  Much of our collection is in storage to ensure its preservation for future generations.
Battle of the Range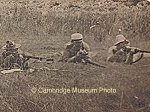 by O'Murcadha – 10 August 1912
The New Zealand Mounted Rifles, camped at the Rifle Range, sent in their news item in verse.
Staff-Sergeant-Major Coleman, the officer in command,
Did rally on his warriors bold to make a gallant stand:
"Your country from invasion you are called upon to save;
'Tis grand to die in such a cause and fill a patriot's grave."
On the hillside the battle raged, and there no flag of truce
Was held towards the invader by the band led on by Bruce:
And tho' the ranks were thinning fast as bullets fell like rain,
Undaunted still stood Sergeant Hill and 'darlint' Private Swayne.
Just as the evening did come on, the shadows turning grey,
Some prisoners were captured by Q.M.S. McVeagh.
Privates Dunning, Guest and Medhurst swore: "Our land must not be lost;
We shall save it from the enemy tho' our lives may be the cost."
The sun was slowly sinking and none there was afraid,
But right down on the cook-house they did make a dashing raid.
And they swore by Japs and Germans that the cook would surely rue
The day he came to battle if he had no Irish stew.
And none amongst those heroes was ever known to run;
For when the battle rages fierce they treat it as good fun.
They are fighting for their country, for such they did enlist,
And they always toast confusion to the anti-militarist.
That night around the camp-fire we had story, song and rhyme,
In language which was sure unknown in our forefathers' time.
We have courage just as they had and never shall we change,
We have proved by our actions at the 'Battle on the Range'.