Collections
Our Cambridge Collection has changing exhibitions about Cambridge.  Much of our collection is in storage to ensure its preservation for future generations.
Cambridge Bowling Club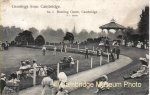 The first game of bowls in Cambridge was probably played on Martin McDermott's lawn in Queen Street in October 1898. In December 1899, the Domain Board gave the Club permission to play in the Domain and so the Cambridge Bowling Club was formed.
At first the tennis and bowling clubs shared the same pavilion but by 1914 the bowling club was outgrowing the accommodation and planned a new Clubhouse and a second green. (A third green, being equipped for night bowls was added later.) A B Herrold, an Auckland architect and keen bowler (who also designed the Town Hall), drew up the plans gratuitously.
A two-storey building was built facing the greens and overlooking the lake and domain. The ground floor consisted of the members' room equipped with 80 lockers. Upstairs was the club room (22 feet x 16 feet), a store room and kitchen. There was a veranda downstairs and a balcony upstairs.
The Domain Board gave £100 and, after the initial meeting, £70 had been promised. This work was not carried out without the members of the club dipping deeply into their pockets, for they promptly found £170 in cash. But the subsidy granted by the Domain Board and the untiring efforts of Mr Joseph Jay, who had acted as financier and supervising architect, had enabled them to have everything in readiness for the opening. Fred Potts (a local builder) completed the building for £350.
Alterations to the Club house were made in 1938 by W Price and additions were designed in the 1970s gratis by Bob Pearce.
In the early 1980s the women joined the men in sharing their greens and in 1992 Astroturf was introduced. Since then the No.3 green has been given back to the Council and transformed into a garden and both the remaining greens have been converted to Astroturf.
The Club celebrated 100 years in 1998 and is still going strong.