Collections
Our Cambridge Collection has changing exhibitions about Cambridge.  Much of our collection is in storage to ensure its preservation for future generations.
Brider Paintings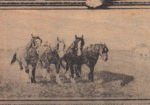 Marianne Estelle BRIDER formerly THOMSON nee DAVIS
Marianne Estelle was born in Bournemouth, England to James and Frances Anne Davis c1873 and came to New Zealand c1919.
Marianne Estelle was the granddaughter of Rev Richard Davis who had arrived in NZ with his wife and six eldest children 15 August 1824. He was brought out by the Church Missionary Society to become farmer to the Mission Station and lay missionary in the Bay of Islands. He was the first man ordained by Bishop Selwyn into the ministry of the Anglican Church and the only European invited to visit the deathbed of Hone Heke.
Estelle was married to John Thomson and they had no children. (Marianne Estelle was John's fifth wife and he had three children with wives one and two.) As a widow she married again to a retired newspaper publisher Herbert Arthur Brider in Wanganui, 1944.
They came to Cambridge where she was a keen member of the Historical Society, and resided in Thornton Road and then Bryce Street, and finally Estelle lived in Grey Street.
Herbert died in Cambridge, February 1955 and Estelle on 26 December 1959. They are both buried at Hautapu Cemetery.
On 12 February 1960 the Waikato Independent reported:- 'At Wednesday's meeting of the Cambridge Borough Council a letter was tabled from the Guardian Trust, as executors of the late Mrs M E Brider of Cambridge.
'It stated that Mrs Brider had made a bequest to the Council of several pictures and the sum of £500 tax free, as a nucleus towards establishing an Art Gallery in the Borough of Cambridge.
'The bequest was made in honour of the late Mrs Brider's grandfather, the Rev Richard Davis, the first missionary in the district of Waimate North.'
In November of the same year a separate fund was established for the £500, in the Waikato Savings Bank.
There are 27 paintings in the collection –
7 Violet E Whiteman nee Sells (1873 – 1952)
4 C Hay-Campbell (1867 – 1936)
2 Hugh Jenkins
1 Louis Frank
1 J R Key
1 C Klein
1 T Robie
1 W A Bollard (1869 – 1941)
1 T Holloway
1 E Boyes
1 Ivy Copeland
1 Le Blond
1 Gillian Puonni
1 William Coleman and 3 paintings by artists unknown.
New Zealand Artists.
Among the paintings exhibited in the town hall as part of the Brider bequest were several farm animal studies by Mrs V E Whiteman. [Born in Guilford, England, Violet was a pupil of Frank Calderon R A and Stanhope Forbes, both noted animal painters. Before coming to NZ in 1926, she had works accepted for exhibitions at the Royal Academy. On arrival in NZ she settled near Wanganui and became known as one of this country's foremost animal painters.]
Mrs Whiteman had lived with her husband on a farm in Herefordshire where they bred pedigree hereford cattle and thoroughbred horses some of which they raced themselves. She rode and hunted from childhood and during the 1914/18 war, drove one of their own teams.
Later they sold the farm and came to NZ and lived in Wanganui. She had studied and painted in England, winning a scholarship at the School of Animal Painting.
She had painted many pictures of animals and had exhibited in London and NZ. One of her works was in the collection of Lord Bledisloe. She died in 1952.
Hugh Jenkins OBE, another of the artists figuring in the collection, was born in 1891, the son of A D Jenkins. He was educated at Whitehall School, London and from there entered journalism in Fleet Street. He came to NZ before 1914 and passed his law professional at Victoria University College. Before going to Wanganui as editor of the Wanganui Chronicle, Mr Jenkins was a leader writer in the 'Dominion'. He took a keen interest in the Sargeant Gallery, was president of the Wanganui Arts and Crafts Society for six years and exhibited his own works in Wanganui and elsewhere. In 1959 he was awarded the Chevalier Palmes Academiques. He died in 1963.
Tom Holloway another of the Brider Collection artists was a returned soldier of World War One in which he lost an arm. He was well known for his flower pictures and his oil paintings. He relieved at times as custodian of the Sergeant Gallery.
Other paintings in the collection are by Louis Francis, [Louis Frank was active in NZ and Australia in the 1880s and is represented in the National Library, Canberra] C H Nicholls and Ivy Copland.
William Allen Bollard 1869 – 1941. Born in Dunedin he first exhibited at 17 years of age. He studied art in Sydney and Melbourne. Over the years he regularly exhibited with the Canterbury Society of Fine Arts and the NZ Academy of Fine Arts.
In March 1967 a selection of the paintings were exhibited at the Art Shop in upper Victoria Street. An Art Gallery for Cambridge did not eventuate and the paintings were stored for many years in a room underneath the Town Hall stage. It was quite dark and musty and borer had started to attack some of the frames.
In October 1976 alarm was raised over the storage and condition of the paintings which were brought out to be catalogued and valued. They went on display in the Council rooms, then the Cambridge Library, until their move to the Library's premises in Wilson Street in 1998.