Collections
Our Cambridge Collection has changing exhibitions about Cambridge.  Much of our collection is in storage to ensure its preservation for future generations.
C.H. Treadgold for Seeds! Seeds! Seeds!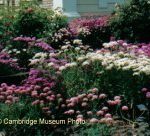 This poem appeared as an advertisement in the 25 August 1906 issue of the Waikato Independent
FLOWERS
I have Adonis Flos, Balsam, Aster Betteridge's Quilled,
Anagallis, Bartonia Aurea, soon your garden will be filled;
Canna, Calliopsis, Drummondi, mixed, Tinctoria Bicolour,
Candytuft Crimson, mixed, Chrysanthemum Tricolour;
Lupins, Dahlia, Delphinium, and Cockscomb for a pot,
Hibiscus Africanus, Godetia the Bride, Forget-me-not;
Foxglove, Feather Grass, Everlastings, Mignonette,
And many others I'll supply, just come along, don't forget.
VEGETABLES
Green Windsor, Harlington Windsor, Canadian Wonder Beans,
Broccoli, Brussells' Sprouts, Borecole, Kale or Curly Greens;
Blood Red, Nuttings Crimson, White or Spinach Beet,
Giant Cos, Paris Green, Drumhead Lettuce can't be beat;
American Wonder, Little Gem, Daisy, Yorkshire Hero Peas,
All can be grown with the greatest ease;
Melons, Carrots, Cress, Cucumber, Leek,
Kindly let me know which one you seek.