Collections
Our Cambridge Collection has changing exhibitions about Cambridge.  Much of our collection is in storage to ensure its preservation for future generations.
Christmas Love Rhymes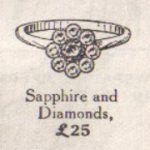 From Vandyke's the Jeweller advertisement, 21 December 1905
Vandyke's
Rings engage the mind,
And lead you to the altar shrine.
Vandyke's
Brooches twine together
Hearts that never after sever.
Vandyke's
Bangles fain entangle
Dainty wrists and make 'em spangle.
Vandyke's
Chains are like a cable,
Tested, and pronounced no fable.
Vandyke's
Gem Rings glitter so,
Provoking everywhere they go.
Vandyke's
Charms are all quite new;
Just the very thing for you.
Vandyke's
Watches always go,
Never fast and never slow.
Vandyke's
Clocks will nightly show,
How long to stop and when to go.
Vandyke's
Silver and Plateware,
Is sterling value, this we swear.