Collections
Our Cambridge Collection has changing exhibitions about Cambridge.  Much of our collection is in storage to ensure its preservation for future generations.
Cricket Match at Oakleigh Farm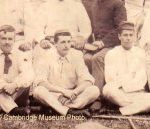 by C H Hargreaves – 2 December 1919
Just list' to me, dear reader,
I will tell to you in rhyme,
Of a match we played at cricket,
Where we had a bosker time.
The Scouts had sent a challenge
O'er hill and dale and flat,
To play any team at cricket
That ever bore a bat.
The country boys they heard it
And blew the bugle call,
And eagerly took the challenge up
For a game of bat and ball.
To Mr Thompson's homestead
Away upon the Bruntwood side,
Where we chose our battle-ground,
One Saturday morn we hied.
We reached the dear old homestead,
A place of beauty's charm,
And received a hearty welcome
From the hostess of the farm,
Who had catered for our coming
With a luncheon that was grand,
And made us feel quite homely
By joining our merry band.
After a hearty luncheon
Beneath the spreading trees,
We could smell the scent of battle
That was wafted on the breeze
For which we all were eager
From the small boy to the boss.
Then loudly came the order:
Now, boys, we'll have the toss!
T'was won by Cambridge Scouts,
Who then commenced to bat;
They made things pretty lively
For the team from off the flat
Whose bowling was terrific,
Though their fielding none too good.
The captain of the Scout's team
Was Master Leslie Wood.
The batting it was cautious,
The wickets began to go;
The balls were coming in dead on
And scoring first was slow.
Till they lost the funk of the battle
And began to feel their feet,
Then there came some slogging –
To watch it was a treat.
But the country team was solid
And kept things all alive.
When the umpire gave last verdict
Scouts' score was fifty-five.
Then there came the innings
Of the team from off the flat.
Their captain, Cecil Thompson,
Was the first to take the bat,
Which he wielded like a tradesman
And he put their bowling through;
He won the highest honours,
With a score of twenty-two.
They launched out, hitting boldly,
But found they'd met their match.
The Scouts were good at fielding
And quick to take the catch.
When Leslie sent a wobbler in
That sealed the last man's fate
And flattened out his middle stump
Their score was thirty-eight.
We packed up bag and baggage
To take our homeward rides;
We cheered our host and hostess,
Our umpires and both sides.
May we oftimes in the future,
When we list' to war's alarm,
Meet to test our cricket battle,
At the home on Oakleigh farm.