Collections
Our Cambridge Collection has changing exhibitions about Cambridge.  Much of our collection is in storage to ensure its preservation for future generations.
Eugene Permanent Wave Machine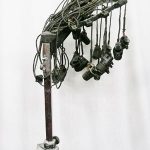 donated by Eleanor Buttimore
This early Eugene permanent wave machine was used in Buttimore's Hair Salon, Victoria Street, Cambridge – proprietors Eddie and Eleanor Buttimore.