Collections
Our Cambridge Collection has changing exhibitions about Cambridge.  Much of our collection is in storage to ensure its preservation for future generations.
Hally's Flour Mill Grindstone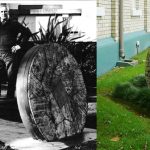 Restored for the people of Cambridge
by Mr Bob Porter
This millstone is one of several made for Hally Bros Flour Mill. It is burstone and was quarried and shaped in France. The mill was built in 1870 and was in operation until 1890. In the year 1888 the mill ground and crushed the produce of 2545 acres for 52 local farmers.
First set up outside the Cambridge Town Hall, this millstone has been moved to the grounds of the Cambridge Museum.