Collections
Our Cambridge Collection has changing exhibitions about Cambridge.  Much of our collection is in storage to ensure its preservation for future generations.
Lamson Rapid Wire Cash Railway System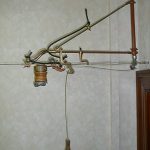 Donated by Vaughan Clements
Accession No. 2920
In the Museum is a part of the Lamson Rapid Wire cash railway system used in George Calvert's & Co Ltd department store until 1985 when the store was sold. This system allowed cash to be sent from each department to a central office where change was made and returned to the customer at the counter.
Although the old money carrier is now purely ornamental, this section has been restored and set up by technicians from Lamson Engineering NZ Ltd and is in full working order.