Collections
Our Cambridge Collection has changing exhibitions about Cambridge.  Much of our collection is in storage to ensure its preservation for future generations.
Ode to the Imitations of Immortality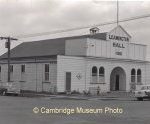 by M.S – 21 April 1954
(Leamington )
This other Leamington, this noble town,
Set like a jewel in England's farthest crown,
Honours the many masters of the pen,
By naming all her streets from famous men.
They are not paved with gold, nor yet
Do noble words resound again
Within these streets, for dust chokes all;
But mighty Shakespeare, all tar sealed,
Commands the middle of the town.
Alas! his head, Oh noble head –
A concrete building squat and square,
While at his feet a river flows –
The Avon? No alas, it is
Both deep and swift, in use for power,
No lovers idly stroll, or punt their way,
(The punters to the racecourse do repair).
On either side of Will, flung wide from him
Strolls gentle Wordsworth, closely matched by
Byron, master mind and far famed Raleigh.
At Shakespeare's foot lies Pope, deriding man,
While Goldsmith looks on him with sympathy.
Far-off from these, lone Bracken wends his way
Across the hill, and Browning full of whims,
Mocks all the rest and wanders as he will.
These names slip idly from the tongue
Of folks who dwell herein aspace,
What do they know? Oh do they care
For these most famous men of grace?