Collections
Our Cambridge Collection has changing exhibitions about Cambridge.  Much of our collection is in storage to ensure its preservation for future generations.
Ostrich Feather Christmas Tree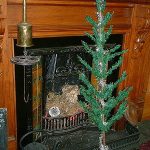 Donated by Mrs Olive Harman
Accession No. 2343/1
An artificial Christmas tree, manufactured in the US Zone of post-World War II Germany. The bendable wire branches are each tipped with a red berry and wrapped with ostrich feathers which have been trimmed and dyed green. (The angel is a peg doll).