Collections
Our Cambridge Collection has changing exhibitions about Cambridge.  Much of our collection is in storage to ensure its preservation for future generations.
Other Cambridge Lodges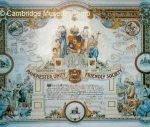 The Alpha Waikato Lodge, No. 449, I.C., Cambridge was opened on 15 December 1865, in a hotel later known as the Masonic Hotel, by dispensation by the Provincial Grand Master of New Zealand, I.C. This lodge lasted only two years.
The Loyal Duke of Cambridge Lodge opened its doors in Cambridge in April 1867.  Fifteen members joined up on 28 May 1867 at a meeting in the Duke of Cambridge Hotel with William Henry Burbridge the first Noble Grand. This lodge folded not long after it celebrated its centennial in 1967.
The Alpha Lodge No. 81 was constituted 11 June 1883 with Morris Moses the first Master. In 1899 they had their own hall built for £149 in Chapel (later Anzac) Street where the Lodge stayed for over thirty years. The Alpha Lodge is still active in Cambridge and carries on with good deeds from their hall on the corner of Queen and Bryce Streets.
Star of Cambridge Tent No 8 NZ District 84 Independent Order of Rechabites:  The Rechabites, who were a Temperance lodge, started in Cambridge on 23 November 1904. It offered to the young men of the district exceptional advantages in the shape of medical and sickness benefits. Charles Beer (a Rechabite of 18 years) took the chair as Chief Ruler and meetings were held monthly in the St Pauls Methodists Schoolroom on Wednesdays nearest the full moon. By 1915 Honorary Members were A Jamieson, C S Beer, J Looker, R Ching, W Harries, Mrs Farnsworth and W H Davies.
The Independent Order of Oddfellows is another benevolent society offering its members various medical and sickness benefits and Arawa Lodge No. 97, IOOF, opened in Cambridge 13 February 1912. The local newspaper reported – "Twenty-two candidates were initiated into the mysteries of the Order, who, with four clearance members from distant Lodges, formed the new Lodge. Bro E A Healy was elected NG, Bro J Wansbone as VG, Bro H Reeves the Secretary, and Bro C Ekman Treasurer."
In 1932, the Brothers of Arawa Lodge took the Rebekah Degree, enabling the Lodge to then start their own Rebekah Lodge for ladies, and Te Koutu Rebekah Lodge No. 78, IOOF, was instituted on 21 January 1933. Sister Jessie Watt was installed as the first Noble Grand.
Due to falling numbers among the brothers, on November 29 1996, Arawa Lodge No.97 combined with Te Koutu Rebekah Lodge No.78 and Sis M Clarke, P L D D G M, was installed as Noble Grand. They continued meeting in this form with Te Koutu celebrating their 70th anniversary in 2003, until Te Koutu also closed in 2012.
Researched and written by Eris Parker
Ref: Cambridge Museum Archives