Collections
Our Cambridge Collection has changing exhibitions about Cambridge.  Much of our collection is in storage to ensure its preservation for future generations.
A brief history of photography in Cambridge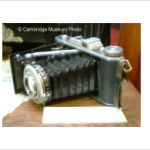 An 1882 advert for W H Neal, Photographer, opposite the Sale Yards Cambridge, says that one could see "The most artistic photos ever produced in the Waikato. Enlargements made from carte de visite or glass positives, and finished in water colours or oil. Views of homesteads and scenery taken to order. A number of views of Cambridge to select from – Inspection invited."
On the 1899 electoral roll Chas Joseph Ellerbeck is listed as a photographer, as is Leo Isherwood. Leo advertised in the local paper as a Photographic Artist in Duke Street. His studio burnt down in January 1915. He moved to Victoria Street and sold the business in March 1918 to Miss Ivy Gordon.  He died in October 1918.
Ivy Gordon stayed for two years.
Photography was so popular that from 1900 to 1905, there was a Cambridge Camera Club with Mr H J Jeffrey (Post Master) the president.
During the early part of the 20th century, postcard collecting was very popular. Photographers travelled the country taking photographs and Cambridge, being most picturesque, often pops up in postcard albums. Names like Winkelmann, F.G.R., S.C. Smith and E.A.B. Ltd as well as the local stationers appear on these postcards.
In 1912, E B Hill, Chemist, had a dark room and produced 36 views of Cambridge which the Misses Hill collated into a promotional book. E B Hill also gave away a photo of Cambridge to those who paid their accounts promptly.
In 1912, Miss Davys also had Pleyel Studio in Lake Street.
Cromwell Shepherd started a Studio in July 1923 but had taken photos in Cambridge 19 years earlier.
From the 1930s onward, Whites Aviation have taken aerial photos throughout New Zealand. Cambridge has been on their flight path and many of these aerial photographs can be obtained on Digital NZ and Retrolens.
Vic Butler came to Cambridge in November 1945 and stayed for 21 years. Also after World War II, Reg Buckingham took up photography as a hobby. He and Vic Butler took photos for the local newspaper, the Cambridge Independent and the Cambridge Museum is fortunate to have the Buckingham negative collection.
Photographs in the Cambridge Museum collection go back to the late 1800s and copies can be had by contacting us here.
Researched and written by Eris Parker
Ref: Cambridge Museum Archives