Collections
Our Cambridge Collection has changing exhibitions about Cambridge.  Much of our collection is in storage to ensure its preservation for future generations.
Plunket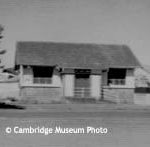 As reported in the Waikato Independent on 28 September 1917, 'A large number of ladies (and several babies) assembled in the Council Chambers for the purpose of forming a sub-branch of the Hamilton centre of the Royal New Zealand Society for the Health of Women and Children'. The Plunket Nurse from Hamilton addressed the meeting and it was decided to form a sub-branch in Cambridge. £70 was raised through subscriptions and donations for operating expenses, and Nurse Graham travelled once a week from Hamilton holding a clinic and visiting homes by appointment.
The first resident Plunket Nurse was Miss Rosa Goulstone and subsequent nurses until 1958 included Aitkin, Parker, Longden, Cliff, Grummitt and Osborne. Plunket and rest rooms were opened in March 1931 on the site of the business premises below the old Post Office. £1,300 were raised by a Queen Carnival which climaxed with Miss Jessie Thompson being crowned Queen at a ball.
(The Plunket scales, bought in 1931 for £4 10/- from the Wellington Scale Co. are now displayed in the Cambridge Museum.)
In 1953 a rental car was organised for the Plunket Nurse to do home visits and over the years more and more money has had to be raised by the society to support the Nurses.
In 1965 Cambridge became a full branch of the Plunket Society and in 1971 built the present rooms between Hogan Accountants and the Cambridge Museum.