Collections
Our Cambridge Collection has changing exhibitions about Cambridge.  Much of our collection is in storage to ensure its preservation for future generations.
Ratepayer's Lament and More Moans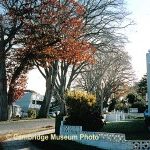 Ratepayer's Lament
by William Street – 20 August 1954
The turf, it was piled by the old village clock.
The grimy old clock.
Slow-chiming old clock.
A burial maybe; muckle gold in a sock?
Oh woe for the streets out of town.
The flow'rs grow fair, in their well tended beds
The lovely rose-beds,
Those green-border'd beds.
Many hands for the petals and leaves each tree sheds,
But woe, for the streets out of town.
Six men for the leaves on a dark Autumn day
A strong gusty day,
A heat-breaking day.
Six men and a truck that the rates have to pay,
And it's woe, for the streets out of town.
More Moans
by Dick Street – 25 August 1954
Where is that truck, that Council truck?
Where are those six strong men?
The leaves lie thick beneath the trees,
They eddy round with every breeze,
Then settle down again.
We bend and rake, we rake and burn,
With the smoke ascends a prayer.
"Lord give us aid,
Our rates are paid,
But of Council help we despair."
We stretch, and sigh. Say the passers-by,
"Oh well, we'll soon be dead."
The trees look prime in summer time.
PLEASE,
Where is the old green shed?
We look with dread,
Far overhead
The tree tops swing and sway
"If fall you must, why then we trust
You'll go the other way."
When dark hours fly and sleepless we lie,
(Or dream of leaves yellow and brown.)
We will not hear
Our town clock so dear
So pity us, you streets out of town.