Cambridge Town
Learn about the history of town and its districts, schools and roads over the years.
View more
Roads – A, B, C, D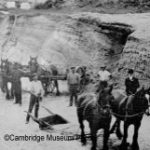 Researched and written by Eris Parker 1989
ASPIN ROAD
John Aspin is the name on the farm, on the first known map of the Fencourt district, to which a road had been surveyed. He supplied milk for the town and according to the Waipa Post newspaper sold his farm 17 June 1922. His son Alexander Aspin is recorded at Goodwood School 1914-1916.
BAKERS ROAD
Arthur Bertram Baker bought the original 700 acres of his property at Whitehall in 1938. With crawler tractors he broke in the hilly land. In 1941 A B bought an adjoining 376 acres and joined the air force to serve overseas in WW II from 1943 to 1945. On his return he owned his own aircraft and used a Gypsy Moth to over-sow his property with white clover. He served many years with Federated Farmers, on the Meat Producers Board, Waikato Insurance, and was chairman of James Aviation from inception in 1947. He was also a managing director of Earthmovers Ltd and Baker Construction Ltd.
He received the O.B.E. in June 1966 and died November 1969.
BANKS ROAD
Mrs Susan Banks nee Buckland bought 'Gwynnelands' in 1895 after her husband Joseph's death. Their son Norman, born 1876, worked at 'Longbeach Station' in Christchurch but returned to work the property.
He married Isabel Millicent McCaw from Matamata and they had four children – Douglas, Thelma, Noeline and Norman. They built their home on Bank's Corner, formerly known as Gerrand's Corner, on Hamilton Road.
Norman was an early advocate in establishing the Cambridge Dairy Co-op of which he became a major shareholder. His other interests were with the Waikato Hunt of which he was Master; he captained the Cambridge polo team; he raced, showed and bred horses; and was a keen golfer.
BEERS ROAD
In January 1902 when Charles Salter and Elizabeth Jane Beer and family arrived from Australia to take up their 900 acres at Fencourt there was no road to their farm. In times of flood the milk was taken out on a track over the highest points of ground. Then in 1904 two sons, George and Walter, worked for the Road Board in lieu of rates to form the road.
Walter, a blacksmith by trade, made a roller from a large log, a wooden grader and a tip dray which proved very efficient in the upkeep of the two miles of their road leading to 'Pleasant View'. Beers Road was taken over by the Waikato Road Board in 1930. The Beer family was a driving force in the establishment of a Methodist Church at Fencourt.
BENN ROAD
John Benn was in partnership with Thomas Grice and owned Moana-tua-tua Swamp in 1868 and John Jefferson Benn, a gentleman from Melbourne, bought land at Pukekura from Richard Reynolds.
Victor Joseph Frederick Benn lived on the corner of the road and farmed there from 1922. He married later in life to Miss Frances Davies and died May 1966.
BELLEVUE ROAD
This road has been known as Killen Road and Hoyle Road. In 1946-47 John Hannon's farm was divided and the road joined.
The name Bellevue, meaning beautiful view, had a family connection. The Killen family has been in the district since 1916, living first at Matangi then moving to Killen Road at Hautapu in the 1920's.
BRINKWORTH ROAD
This was a dusty track until the army erected their barracks at the end of the road in World War Two. They widened the road and since then it has been kept up by the Waikato County Council.
Third generation Brinkworths still farm the land, Richard (Dick) having handed over to Jack and Mary. Opposite this road on the Bruntwood-Tamahere Road is the closest point that historians can calculate as being where Wiremu Tamehana and General Carey met to negotiate the Land Wars peace settlement in 1865.
BRUNSKILL ROAD
William Samuel Brunskill was born in Ireland, came to the Waikato in 1878 and with his brother Henry bought Pah Farm at Karapiro. They exchanged this with Every McLean's 900 acre property at Taotaoroa and named it 'Woodford'. In 1874 William married Maria Ewen and they had eight children. Two sons Charles and Seymour lived on adjoining properties and later a grandson Ian owned 'Kensington'.
BUCKLAND ROAD
William Thorne Buckland leased land from Wiremu Tamehana at Taotaoroa, Karapiro, Fencourt and Tirau known collectively as 'Buckland's Run'. Subsequently he bought the land through the Land Courts as well as 50 acre lots from the soldier-settlers, with the idea of developing it as a profitable sheep and cattle enterprise.
The Taotaoroa land, which he bought through the Land Courts in 1866, made him the first private purchaser of farm land in Cambridge. He had learnt the language and ways of the Maori and was known as 'Te Pukerau' because of his strong and undaunting pioneering spirit. He died in 1876. Later his son William Francis Buckland became a very progressive mayor of Cambridge 1898-1902 and 1905-1910.
COX ROAD
This used to be the Old Constabulary Road from Redoubt Road and the only access for early Roto-o-Rangi farmers. Edmund Blanchford Cox was born 1853 in New South Wales and came to New Zealand as a child. He married David Anne Wilkins in 1877 and settled at Taupiri then Roto-o-Rangi in 1906. They had eight children and were very keen on all kinds of sports. Edmund served in the Armed Constabulary, was a Justice of the Peace, served on numerous committees and was an active member of St Andrews church.
DAYS ROAD
The property of Pencarrow at Tamahere was subdivided and Days Road surveyed in 1914. Cornelius Day was born in 1836 in Kent. In 1878 he brought the first Jersey cattle to the Waikato from Mrs Halcombe's sale at Feilding. He then became directly responsible for supplying foundation stocks for pedigree herds throughout the district. He imported stock from Jersey, Australia and America and became a leading force in the promotion of the Jersey breed for dairying.
In 1899 he established the first creamery in the Tamahere district, which was sold to the Cambridge Dairy Coop in 1904. For 30 years Cornelius was Warden at St Stephens Anglican Church at Tamahere where he and his second wife Sarah Jane are buried.
DILLON ROAD
At Kairangi, Captain David Dillon purchased a farm after World War One and the family has stayed in the district ever since. Captain Dillon, 18th Irish Retired, had served 29 years in South Africa, India and other parts of the world.
3,000 acres of Kairangi were owned by P C Threlkeld (Old Patsy) who grazed his one white horse on the property before it was subdivided for farming.
Alec Hewson did much of the road work in the district and gravel was dug from Dillon's quarry. It was found that some of the approaches to bridges were a hazard to motorists so the Road Board rearranged the bridges and changed the course of the river.
DISCOMBE ROAD (formerly No 1 CROSSROAD)
Thomas Walter and Florence Maud Discombe with their children arrived c1910 and farmed where the Cambridge Stud is today. This used to be two roads – Selbys and Tor View until it was joined.
DUNNINGS ROAD
James and Mary Dunning and family lived in the Whitehall district in the early part of the 1900s.
Disclaimer:
While all due care has been taken to verify information contained on this site, the Cambridge Museum accepts no responsibility for any errors, omissions or misrepresentation.
Copyright © 2003 – Cambridge Museum – All Rights Reserved.