Cambridge Town
Learn about the history of town and its districts, schools and roads over the years.
View more
Roto-o-rangi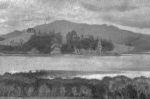 The Roto-o-rangi district was once a lake and the name means 'The Lake of Heaven'. When Europeans arrived in 1864 the area was drained and today it is rolling farmlands.
The last death relevant to the Waikato Land Wars occurred in this area on 24 April 1873.
David Jones, Charlie Rodgers and Timothy Sullivan were working on leased Maori Land for E B Walker. (Not all Maori agreed to leasing the land).
The whole area went on alert and a redoubt, large enough to accommodate sixty men, was built overlooking the main trail between Cambridge and Te Awamutu. There was no more trouble after that.
A cream skimming station called 'Gricelands' was erected at Roto-o-rangi in 1903 and the settlers built their own roads to the factory.
The school was opened in February 1905 and the headmaster rode out from Cambridge each day, doubling as the post master. Twice a week he handed out letters to children to take home to their parents.
Researched and written by Eris Parker
Ref: Cambridge Museum Archives
Disclaimer:
While all due care has been taken to verify information contained on this site, the Cambridge Museum accepts no responsibility for any errors, omissions or misrepresentation.
Copyright © 2003 – Cambridge Museum – All Rights Reserved.