Collections
Our Cambridge Collection has changing exhibitions about Cambridge.  Much of our collection is in storage to ensure its preservation for future generations.
Pocket Knife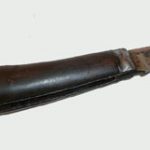 Donated by Miss Annie Arnold
Accession No. 52
This knife was given by Tim Sullivan to Mr John Arnold. Shortly afterwards Sullivan was killed by the Maori's at Roto-o-Rangi, 24 April 1873.