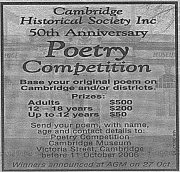 A Tale of Timothy Sullivan
-
In October of 2006, the Cambridge Historical Society celebrated its 50th Anniversary and a poetry competition was held as part of the celebrations. Entrants' original poems were to be based on the subject of Cambridge and/or the surrounding districts and we present here the prize winners of each section together with some of the highly commended entries.
by Kath Townsend – Highly Commended in the Adult Section
A ballad about the demise of Timothy Sullivan on 24 April 1873.
What happened in 1873 –
An event about which I must tell,
Concerning poor Tim and what happened to him
On a day I remember so well.
My mother had named me David Jones.
A stockman I was, by trade.
I was camped in a whare at Pukekura,
While working on a road to be laid.
At the time I was toiling with some of my friends
On E B Walker's land.
He had leased it from the Ngatihaua –
A track there had been planned.
The confiscation line was near,
But past it we had to go,
In order to make our road with fascines,
Any progress seemed ever so slow.
There had been a few threats by the Hauhaus I think,
To those who crossed over the line.
While stock had been shot and a hut was burnt down,
We foolishly thought we'd be fine.
With Charlie Rogers and Tim Sullivan
I slaved very hard before lunch.
As we crossed the road to get twigs for the fire,
I suddenly noticed a bunch.
While reaching up to a wayward branch,
I noticed my dog yelp, then run.
I spun around in time to see
A warrior carrying a gun!
I backed away, then horrified saw
About three or four others close by.
I called to my friends as loud as I could.
"Let's run!" yelled Rogers, "or die!"
We dashed away as fast as we could,
The swamp sucked hard at our feet.
If only we could reach the bush in time,
I was really feeling the heat!
For three quarters of a mile, fright gave us wings
Manuka slowed any gunfire
Of the warriors following closely behind
As we all struggled on through the mire.
Then all of a sudden, poor Tim collapsed
To the ground with a cry of despair,
"Take care of yourselves, I'm done!" he croaked
And a shot rang out through the air.
The chase went on – just Charles and me now,
The hillside loomed closely ahead.
I heard the sound of gunfire again,
It missed, but it filled me with dread.
At last with the bush clawing hard at our legs,
The clearly marked line we passed.
A warrior yelled, "The boundary you've crossed!"
He stopped the chase at last.
We slackened our speed and decided to part,
Charles headed to Walker's place.
Cambridge was where I aimed for then,
To tell the town of the chase.
Major William Clare had only two men,
But the settlers were keen to join him.
They armed themselves well and all galloped off
To hunt for my poor friend Tim.
At Roto-o-rangi they began to search
The swamp and bush for Tim.
It was E B Walker who found the spot
Where the warriors murdered him.
To add to his shocking injuries
His waistcoat and hat had gone.
I wondered when I heard this bit,
Which warrior had them on?
Now when I look back on that terrible day,
I thank Heaven that I was spared,
That He kept us alive to bring the news
To the people of Cambridge who cared.