Collections
Our Cambridge Collection has changing exhibitions about Cambridge.  Much of our collection is in storage to ensure its preservation for future generations.
Sanitary Inspection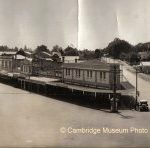 Sanitary Inspection of Cambridge Borough covering Victoria and Empire Streets –
13 June 1921.
"The triangle comprises a little more than two acres and is built over with shops along the Victoria Street side with the yards looking out onto Empire Street. The shops comprise the oldest buildings in Cambridge and none of these are intended to be residential but only occupied as shops, offices, workrooms etc. Sometimes a family does get into occupation, although often such occupation is temporary and not with the knowledge or sanction of the inspector. The housing difficulty during the last few years has accentuated this.
"As regards to buildings a number are out of repair and have no proper ventilation beneath the floors. These premises were possibly originally built clear of the ground but owing to street or footpath formation, the ground has been raised to floor level, hence the lack of such ventilation beneath the floors.
"The leases of certain premises owned by one man are not being renewed as they run out as it is intended to pull down and rebuild such premises. It is therefore difficult to obtain extensive and expensive repairs or alterations in connection with such buildings.
"As the old shops are removed better conditions are provided and it is to be wondered that owners of certain properties are willing to continue to keep valuable ground occupied with such poor structures.
"The premises are damp in most instances owing to there being no provision for ventilation beneath the buildings and through defective spouting, downpipes etc. The backyards have an unsightly appearance chiefly owing to rank growth of vegetation and blackberries, and to dilapidated outbuildings. In certain cases, accumulation of refuse were present, and in many premises there is every evidence of the presence of rats."
Thomas J Schauar
Medical Officer of Health