Collections
Our Cambridge Collection has changing exhibitions about Cambridge.  Much of our collection is in storage to ensure its preservation for future generations.
Thornton Family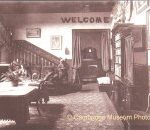 Ten thousand acres of land were leased and bought in 1868 by Daniel Bateman .
He was visiting with his brother-in-law Josiah Firth of Matamata and had travelled by river to Cambridge. They continued on horseback over the Maungakawa Range where Thornton was captivated with the idea of building his house on top of the hill – Pukemakomako – and utilizing the land to grow wheat for their up-and-coming flour mill.
The area at that time was known as the Maungakawa and Maunganui Surveys and bordered the huge Maungakawa Pa and 'Bucklands Run' to the east. Initially the property was used for grazing and fattening cattle and was in the charge of a manager for many years.
The Thornton family, originally from Yorkshire, were owners of a large woollen mill in Russia. Daniel Thornton's father had been invited to Russia to assist with the Russian mills and from this the Thornton Mill eventuated. Daniel was four years old at that time.
He married Hannah Isherwood in 1846 and they had a son, James. Hannah died in 1852 and Daniel married his cousin Sophia Firth in 1856. With Josiah Firth and his family they emigrated to New Zealand in 1856, and all their nine children were born in Auckland.
The first venture was a corn milling business and subsequently they built up the firm of Thornton, Smith and Firth, a leading flourmill that was later known as Northern Roller Mills.
On the death of Daniel's father c1870 they returned to Russia. In 1874 they were about to return to New Zealand when Daniel's elder brother, John, died. Danel being guardian of John's children, they stayed on in Russia to run the woollen mill business.
In 1880 Daniel retired from the mill, again intending to return to New Zealand but he died suddenly at his home 'Monteray', St Mary's Road, Wimbleton Park, Surrey on 12 August 1881 aged 56. (Daniel had had diabetes for many years and Sophia outlived him by 29 years, dying at Eastbourne, England in 1910.)
After Daniel's death Sophia and her children returned to New Zealand and built their dream house on the top of Maungakawa in 1890. But this wasn't just an ordinary house. This was a two storeyed mansion built by Mr Julien of Auckland who had all the material carted up the hill by horse and wagon. An enormous task.
The house featured a large entrance hall, an immense fireplace catering for at least twelve people, a beautiful winding staircase leading up to the bedrooms. (It has been said that Sophia's suite was made of Russian wood). There was a dining room off which was a conservatory. The maids' rooms had a staircase to them from another wing of the house. Furniture had been collected from all over the world as had the trees and shrubs for the garden.
Thomas M. Brown formerly of the Fencourt Estate and George Graham's of Ellerslie, was the gardener who laid out the grounds and planted the trees and shrubs, some of which are still flowering today. He was always happy to show people around. Half way up the hill Mrs Thornton placed a seat, marking the place 'Rest and Be Thankful.'
In 1892 the property passed to William Thornton, Sophia's youngest son, who in 1896 married Hilda Worsp. (They had one son Daniel who was killed in World War One)
In the 1890's Maungakawa was the scene of big gatherings of Maori who came from all parts of the North Island. King Tawhaio established his Parliament in a meeting house (on what is now the farm of the Muirhead family). A printing press was set up on which was printed a newspaper called "Te Paki O Te Matariki" or "Girdle of the Pleiades", between 1891-1893.
It is not known for certain why the Maori abandoned the area, but at one stage an epidemic caused many deaths.
The views are just as expansive as when Daniel Thornton stood there in wonderment over one hundred and forty years ago. Occasionally a bellbird is heard.