Collections
Our Cambridge Collection has changing exhibitions about Cambridge.  Much of our collection is in storage to ensure its preservation for future generations.
Tobacco Press and Cutter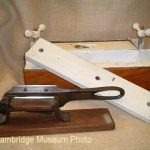 Tobacco Press donated by R Irvine
Accession No. 268
Tobacco Cutter donated by Mrs Mary Whewell
Accession No. 241

In the late 19th century, there was no tobacco-growing industry in New Zealand. It was all imported and thus subject to customs duty. Many settlers experimented with growing their own and used tobacco presses and cutters like these for plug tobacco.
However, anybody found to be in possession of raw tobacco without having paid customs on it could find themselves in Court, such as early Cambridge settlers Charles O'Neill and Harry Owen.