Collections
Our Cambridge Collection has changing exhibitions about Cambridge.  Much of our collection is in storage to ensure its preservation for future generations.
Unidentified Object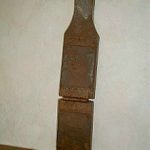 Donated by Margaret Scrivener
Accession No. 3138/11

From the estate of Miss Annie McNaughten, the donor's aunt.
Periodically we are presented with examples of unknown or forgotten technology and here is one of those. Made of two hinged pieces of wood it has facing pads of an unknown material mounted on woven backing similar to that used behind linoleum flooring, and measures: Length folded – 19 cm; extended – 28.5 cm. Width – 5.5 cm.
Does anybody know what this is? Click here to contact us.