Collections
Our Cambridge Collection has changing exhibitions about Cambridge.  Much of our collection is in storage to ensure its preservation for future generations.
Waikato Farmers Club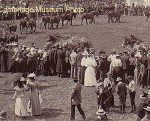 The Waikato Farmers' Club was formed 20 October 1875, to advance the development of agriculture and pastoral lands; for essays on agricultural subjects and discussions. It was a common meeting ground for ideas on farming and papers were read on wheat growing, scab in sheep, wire fencing, farming, swamp drainage, tree planting and manures. The members also inspected farms and held a ploughing match.
They built their club rooms in 1877. The Architect was Messrs Keal & Sons and Mr James' tender of £615 was accepted for the building.
It was built from Kauri, 80 feet long and consisted of a library, lecture room, a smoking room and two committee rooms and was comfortably furnished at an overall cost of £800.
Leading farmers of the time were Every Maclean of the Auckland Agricultural Company which owned nearly 30,000 acres of 'Fen Court', Horahora and Karapiro; James Runciman of Newstead; Francis Hicks of Pukekura; A A Fantham of 'Gwynnelands'; G E Clark of Pukeroro; John and Robert Fisher of Pukerimu; W L Martyn of Tamahere; R H D Fergusson of 'Gorton', Karapiro; E B Walker and Richard Parker of Monavale; Richard and Henry Reynolds of Pukekura; Henry Buttle of Ohaupo.
Waikato was mainly a cattle raising district and the excellent herds demonstrated the suitability of the land for grazing. Sheep and horses were equal in quality to other districts. Cambridge had been a small military settlement only 13 years previous and after giving valuable aid and instruction to their members the Farmers' Club was able to put on a most successful show.
The show drew a crowd of 1,000 people and exhibits were of stock, dairy produce, pigs and implements. Outstanding exhibits of Lincoln sheep were made by McNicol and Maclean & Co, Shorthorns by Henry and Richard Reynolds and E B Walker and draught horses by William Martyn.
But in 1881 the club was in trouble with apathy among members and a poor state of finances. The secretary-treasurer moved, 'That the Waikato Farmers' Club cease to exist, and the clubrooms plus the three acres adjoining be disposed of.' It was sold to Tom Wells.
It seems as though the Waikato Farmers' Club was formed again 23 June 1889 and a Cambridge branch came into being in 1891. In 1897, on the Monday nearest the full moon, they met in Duke Street and the title to the property on the corner of Commerce and Duke Streets was transferred to the Club in 1902.
In 1913 the Farmers' Club was wound up and became a branch of the New Zealand Farmers' Union.
In 1945 the Farmers' Union linked up with the new organisation – Federated Farmers.