Women's Suffrage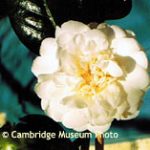 The following is the script researched and written by Eris Parker, and used for the Cambridge Suffrage Documentary Video, which was made in 1993 to help celebrate New Zealand's Women's Suffrage Centennial.  Click on this link to see the video:  Cambridge Suffrage Documentary Video.
The Town of Cambridge New Zealand was established in 1864 as a frontier post for the men and families of the 3rd Waikato Militia during the Waikato Land Wars.
The beginnings of the women's suffrage campaign in New Zealand came five years later in 1869 when Mary Ann Muller of Nelson, under the penname 'Femmina' published an appeal for the rights of women, including the right to vote.
Meetings, lectures, correspondence to newspapers up and down the country during the following years addressed the issues of temperance and the rights of women.
In 1875 Sister Mary Knox, from the Pioneer Lodge of the order of Good Templary came from Auckland with a Charter to establish a lodge in Cambridge. And in 1880 a meeting was called to form a Temperance Lodge with Colonel Lyon of the Armed Constabulary advocating that this branch include female membership. Local ministers the Rev Willis, Evans and Bull supported the broad platform of this society recognising those of all denominations as members, as well as embracing total abstainers and the temperance man.
The women's right to vote was raised in parliament in the 1870s but at that stage the MPs saw no evidence to indicate that women wanted the vote.
Until 1879 only property owners had this right when it was extended to all males of British descent over 21 years of age. Not until 1889 was the vote extended to all males over 21.
In 1880 John B Whyte, Waikato's Member of the House of Representatives, spoke at a banquet held in his honour, given by local constituents and hosted by Mr and Mrs Hewitt of the Criterion Hotel.
During his speech he referred to the Deceased Wife's Sister Bill (which he voted against) and Woman's Suffrage (which he also voted against). But he did say, "I think that probably some day it may be found necessary to give ladies the vote in order to check the democratic tendencies of the age, but the country is, in my opinion, not ripe for that yet."
The Blue Ribbon Army became very active in Cambridge with entertainment and lectures as well as social gatherings. Many members were persuaded to sign the pledge.
In 1883 the Cambridge lady members gathered signatures for a petition in favour of women's right to vote in licensing elections.
In 1885 Mary Leavett of the Women's Christian Temperance Union of America visited Cambridge and spoke at length on the evils of intemperance and her mission to introduce the WCTU to NZ.
The Cambridge branch of the New Zealand Alliance and the Temperance League advocated strongly against a new hotel in Cambridge West, an upstairs bar at the National Hotel and Sunday tippling.
Other speakers, Solomon Hemus, the Rev McFarlane and Sturgus and R M Toms addressed Cambridge gatherings. Not all were well received.
In 1887 Kate Shepherd of Christchurch was appointed National Superintendent of the franchise department of the WCTU. So began a campaign of petitions, lectures, debates, leaflet distribution, newspaper articles and letters to editors.
During the next six years the Women's Franchise bill was hotly debated.
'Women have plenty to do already and should not mix in politics.'
'So long as women are denied the franchise representative government is only a sham.'
'Women do not want the franchise and if it is granted to them it will create dissensions in the household.'
'Women's apparent subordinancy is traceable to the conditions to which for centuries men have condemned them. Their state has always been more or less a pronounced form of slavery.'
'Women's mission is to get men up to heaven; this surely is a sufficiently arduous task.'
'The franchise should be extended only to single women and widows. A man and his wife are as one and only represent one interest.'
But life was not all serious debate and agitation. In 1888 Cambridge ladies prepared to challenge their Hamiltonian counterparts at cricket.
The Cambridge Parliamentary Union wanted to see the vote extended to Maori women. It was reported that the debate was – "of an interesting character and occasionally waxed pretty lively."
In 1893, 13 petitions were presented to Parliament representing more than 30,000 women over the age of 21 – almost one quarter of New Zealand's adult women.
In September 1893 the Electoral Bill was finally passed by 20 votes to 18 prompting a hum of excitement as telegraph lines sent the news throughout the country. Women rushed to enrol so they would be able to vote in the coming elections on 28th November.
In Cambridge 225 women registered and on Election Day the local newspaper reported:
"The Cambridge ladies took a big hand in the election, nearly all that were on the roll exercising the newly acquired privilege. Miss Emma Forrest acted as scrutineer for Mr Cadman and went through her arduous task in an able manner."
Mrs Alice Graham was the first woman to exercise her right at the main polling booth in the Waipā.
In 1919 women secured another victory with the passing of the Women's Parliamentary Rights Act, permitting them to sit in the House of Representatives. However it was not until 1933 that New Zealand's first woman Member of Parliament, Mrs Elizabeth McCombs, was elected in Lyttleton.
In 1947 Mabel Howard, MP for Sydenham, became New Zealand 's first woman Cabinet Minister and Minister for Health and Child Welfare.
In 1949 Eriana Ratana became the first Maori woman to gain a seat in Parliament.
In the Waipa Marilyn Waring, our first woman MP, served from 1975 to 1984 and then Katherine O'Regan represented us from 1985.
In 1947 Enid Taylor became Cambridge 's first woman Borough Councillor and in 1985 Pat Allan the first woman Mayor of Cambridge.
Disclaimer:
While all due care has been taken to verify information contained on this site, the Cambridge Museum accepts no responsibility for any errors, omissions or misrepresentation.
Copyright © 2003 – Cambridge Museum – All Rights Reserved.