Women's Suffrage in Cambridge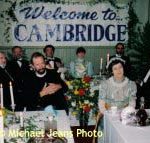 Pioneering for women (in the colonial sense) has only recently been addressed – possibly from the insurgence of family history research.
Our Cambridge women were doing their bit to colonise their new home and as they worked in partnership with their menfolk, equality was being instilled.
If the men of New Zealand did not have the belief that women had the right to vote, New Zealand women would also have had to fight like their British sisters. European women (and men) did not have the experience of settling a new land and they had a well-publicised struggle – first to convince their people, then to change the law.
Cambridge was founded in 1864. The campaign for women's rights began in 1869 when Mary Muller of Nelson published an appeal for women's rights including the right to vote. In 1893 (24 years later) there were 225 Cambridge women registered on the electoral roll. The Waikato Times reports in 1893 : "The Cambridge ladies took a big hand in the elections; nearly all that were on the roll exercising the newly acquired privilege."
A new generation of New Zealanders had won the beginning of a campaign for women's equality. In Cambridge it wasn't until 1947 that the first woman, Mrs Eos Enid Taylor, was elected to the Borough Council. Only in recent years have we had women ministers in the church and in 1993 we had our first woman funeral director.
Women are still pioneering – going where no woman has gone before.
The Petition
The 1892 Suffrage petition reveals three Cambridge women signing in Auckland.They were Margaret McVeagh, Mary McVeagh and Lucy Kerr.
The McVeagh family were 3rd Waikato militia pioneers and by the 1890's, two sons Robert and James, were prominent Auckland lawyers. Their mother Margaret and possibly sister-in-law Mary, may have been in Auckland visiting. Lucy Kerr was the wife of Robert Kerr who had been a builder in Cambridge since the early 1870s. Although Margaret and Mary McVeagh were registered in Cambridge to vote in 1893, Lucy Kerr was not.
One Cambridge woman has been found on the 1893 suffrage petition – the huge petition of 25,519 names which was presented to parliament in a wheelbarrow. Miss Ella Denton was the signatory. Ella was the daughter of Charles and Lousia Denton and born in 1873. She and two brothers and a sister are registered on the original Cambridge West school roll (1880).
Later Ella married John Looker and raised four children – Victor married Cathleen Reynolds; Olive married Stanley Wallis; Alan married Hazel Johnson and John died aged 19 in 1924. There are still many descendants in Cambridge.
Petition power was the main method of raising the women's suffrage issue in parliament. The first petition of 10,000 signatures was presented in August 1891. Again in 1892 another petition was signed by over 20,000 women. In July and August 1893 thirteen petitions representing more than 30,000 women over the age of 21 were presented to parliament.
The 1893 petition of 25,519 names has survived. Some of the others have not. Other Cambridge women could well have been on those lost petitions
(© Photo Credit: Michael Jeans Photographer)
Researched and written by Eris Parker 1993
Ref: Cambridge Museum Archives
National Archives Wellington