World War One – Departure of First Five Soldiers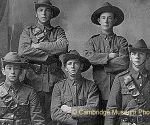 The first five Cambridge men to leave for training for World War One were Tom Phillips, Robert Ferguson, Alf Swayne, Fabian Sperry and Jim Watson. They were all members of the Waikato Mounted Rifles.
Corporal Thomas Wallace Phillips, regiment number 13/728 2nd Auckland Mounted Rifles, was the son of Mathew Muir and Mary Phillips of Fencourt.
He joined his unit at the Dardanelles on 30 June 1915 and was reported wounded 8 August 1915 with a shattered left arm and shrapnel in his neck, hip and leg. Jim Watson, his cousin, looked after him for two days on the beach until he was evacuated. Tom had two fingers amputated and was transferred from Malta to England 13 September 1915.
He died of pneumonia on the 18 October 1915 and became the first New Zealand soldier to die at the Walton-on-Thames Military Hospital .
Private John Robert Clarke Ferguson was born 13 May 1888 the son of Mrs Hugh Ferguson. 'Fergie's' regiment number was 13/332 Army Service Corps Field Ambulance Section. After several months in Egypt he was injured through his horse falling on him and was sent back to New Zealand on six month's leave. He sailed again with the 11th reinforcements then was wounded in the chest on the Somme in France in October 1916.
Trooper Alfred James 'Cocky' Swayne, regiment number 13/459 Main Body Auckland Mounted Rifles, was the son of Robert and Catherine Swayne of 'The Oaks' on Swaynes Road, Fencourt.
Alf was invalided home from Gallipoli but returned to the front with his brother Frank in the 11th Reinforcements Infantry in 1916. He was promoted in the field to 2nd Lieutenant in July 1916 and then wounded again in 1917 at Messines and spent his convalescence in Brockenhurst, England. Again he was promoted in 1918 to Lieutenant and returned home to marry Miss Norma Langton.
Alf Swayne served twice as president of the Returned Services Association and was a popular 'Teller of Tall Tales'. He was awarded the Gold Star and Life Membership for his work in the club. For 42 years on Anzac Day parades his voice could be heard booming through the streets as he called his 'troops' to attention.
He died 26th March 1975 and is buried at the Cambridge R S A Cemetery.
Trooper Fabian Sperry, regiment number 13/461 enlisted from Taotaoroa and left with the Main Body of Auckland Mounted Rifles in 1914. He was wounded at Gallipoli and on recovery transferred to the artillery and fought in France. Again in 1917 he was wounded and this time was sent home.
'Fay' married Miss Mary Ann Ormiston and they farmed near Hamilton. His wife died and he married again. 'Fay' died February 1970.
Trooper James Wallace Watson, regiment number 13/479 was the son of Mrs W Watson of Pukerimu and left with the Main Body of Auckland Mounted Rifles aged 18 years. He fought on Gallipoli, sustaining a wound to his hand and thigh, was wounded at the Battle of Rafe and fell victim to malaria. He was awarded the Military Medal in Palestine in 1918 and arrived home a Sergeant, from Egypt on the 'Ulimaroa' in August 1919 – five full years of service. Jim farmed with his wife Ida at Maungatautari until retiring to Papatoetoe in 1953. He died on 13 October 1986 aged 92 years.
Researched and written by Eris Parker
Ref: Cambridge Museum Archives
National Archives Wellington
Disclaimer:
While all due care has been taken to verify information contained on this site, the Cambridge Museum accepts no responsibility for any errors, omissions or misrepresentation.
Copyright © 2003 – Cambridge Museum – All Rights Reserved.